| | |
| --- | --- |
| | |
Event Details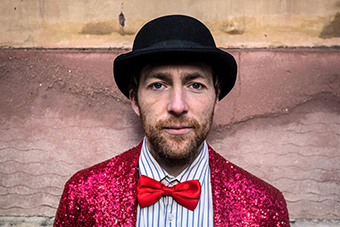 Come discover many things you never thought you needed to know, on this highly recommended Bullshit Tour of Falmouth.
Comissioned by Stranger Collective for their inspirational event Raft, this performance went down a treat and we are delighted to invite Reuben back.
Please come prepared for the weather and with a grin and meet promptly outside the Hand Bar in the Old Brewery Yard at 6.30pm.
When & Where
Old Brewery Yard
High Street
TR11 2BY Falmouth
United Kingdom


Organiser
We are an independent trading company based in the South West of England. 
We trade in wild ideas and delicacies, working with sailing cargo vessels to import fine produce from across the Atlantic Ocean and along European coastlines.
We will soon launch the latest editions of New Dawn Rum, brought from the Caribbean aboard Fairtransport's brigantine, Tres Hombres and will also see our first products arrive from Central America, sail-shipped aboard Timbercoast's schooner, Avontuur.
In Europe, we continue with our successful explorations in community supported shipping with the transport of the very best Portuguese OLIVE OIL. Become a part of our collective! You can work on the farm, sail on the ship and sell the oil. With our network of ships, producers and allies, we are building new models of trade that puts planet and people first.
We have organised Sail Cargo Festivals in Cornwall to mark the arrival of our cargo and to celebrate these pioneering sailing vessels. In 2015 we hosted the first meeting of the Sail Cargo Alliance, a coming together of people from across the globe who share this life's work of cargo under sail.
Through our products & events we are invigorating a new maritime culture around fair transport ships, the goods they carry & the communities they support. Our journey is a symbolic one, which aims to continue the global movement of bringing food trade to a human scale & consumerism to a conscious level. In time we will add our own ship to the fleet!
Our exotic treasures are chosen for their exceptional taste and ethical goodness from soil to serving. The enitre supply chain is our adventure and we'd like to share it with you!