Location
Hawker House
Canada Street
London
SE16 7PJ
United Kingdom
Europe's BIGGEST burger bash is back
About this event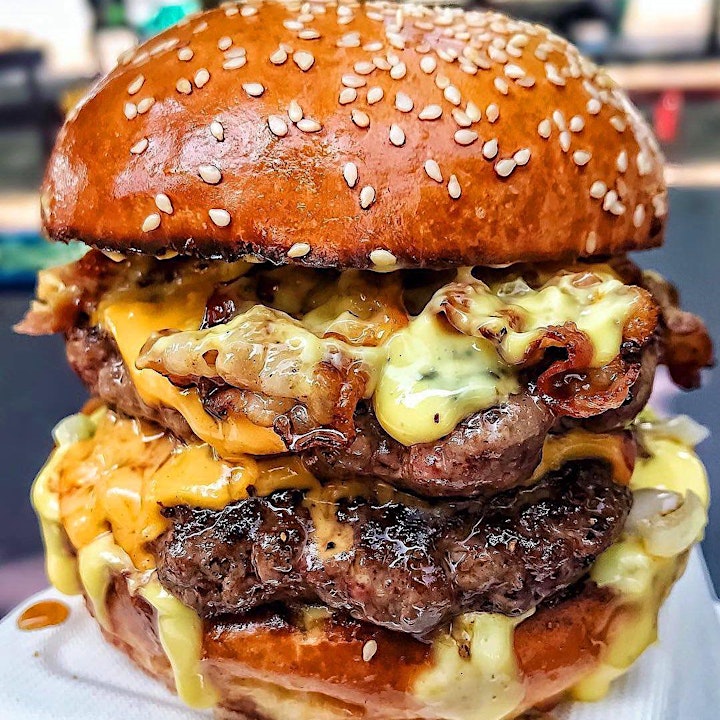 After six sell-out years hosting the National Burger Day party, we're taking things to the next level by launching the Bundance Burger Festival – Europe's BIGGEST burger bash – with our strongest line-up yet.
Sixteen superstars of the burger world will come together at Hawker House, our Canada Water mega market, on Thursday 22 Aug to showcase their brilliance with exclusive one-off specials as well as time-honoured classics.
Each burger will be served slider-sized to give the maximum chance of ploughing through the lot, and a huge range will be available, featuring fish, goat, chicken and vegan options as well as beef.
Our selection for 2019 includes Galway's Handsome Burger – just voted as OFFICIALLY the best burger in Ireland – who will be cooking in London for the very first time.
Steamed-bun trailblazers Bao are on board with their genius take on a Chicken Zinger Burger – panko chicken in a sesame bao with a fried onion ring, Sichuan mayo and chilli.
Indian barbecue experts Brigadiers, masters of meat at their much-loved City restaurant, will add some high-end flair with the goat tiki bun kebab.
The Dexter Cheeseburger from Four Legs might just be the hottest burger in London right now – if you haven't tried it yet, discover at Bundance why they've been all over Instagram.
New Dinerama arrivals Tucka Burger, a sensation since their move from Model Market, will appear at their first Street Feast burger bash. They'll be joined by legends of the London scene like Bleecker St Burger, Black Bear Burger and Honest Burgers. More huge names will be confirmed in the run-up to the party.
Other street food heroes serving on the night include Thunderbird, Mother Flipper, Red Farm, and Bob's Lobster.
A staple of previous Burger Day parties, the much-loved burger piñata, will once again have 10 bells knocked out of it, while Hawker House's SIX bars will keep the craft beer, wine and cocktails flowing.