Event Information
Location
Sea Isle Marina & Yachting Center
1635 North Bayshore Drive
Miami, FL 33132
This is not sold out, new ticket link on eventbrite at Apex Presents.
About this event
I'm proud to announce that Burmuda will be hosting a special Anjunafamily boat party at Miami Music Week. We've teamed up with Esscala and Apex Presents, to bring you a very special event, with some of the Anjuna label's favourite artists.
Sailing through the Miami sunshine with the soundtrack to Anujna we bring a very special intermit event.
All tickets from our original boat party will be valid for this new event on the Friday 25th March. This includes the tickets from 2020.
If you can not make the Friday but want to go on the Thursday original day, I've made a deal with Esscala to allow you to come on the Gabriel & Dresden boat party on the 3/24. You need to contact me to tell me if this is what you would prefer as there is limited tickets on these events. You have 7 days to inform Burmuda, otherwise you will be automatically added to the Friday event.
I'm proud of what we've managed to bring together through a difficult time and can't wait to see you all on the boat in Miami.
Fatum, Gardenstate, Sunny Lax, Jaytech, Naz,Rodg, Reeboot, Kev Blundy.
There will be a paying bar which will also have snacks on board. You are not allowed to bring your own alcohol on board.
THERE IS A STRICT NO DRUG POLICY AND YOU WILL BE SEARCHED WHEN BOARDING THIS VESSEL IN COMPLIANCE WITH THE UNITED STATES DEPARTMENT OF HOMELAND SECURITY 🇺🇸
This is a refundable event should it be effected by covid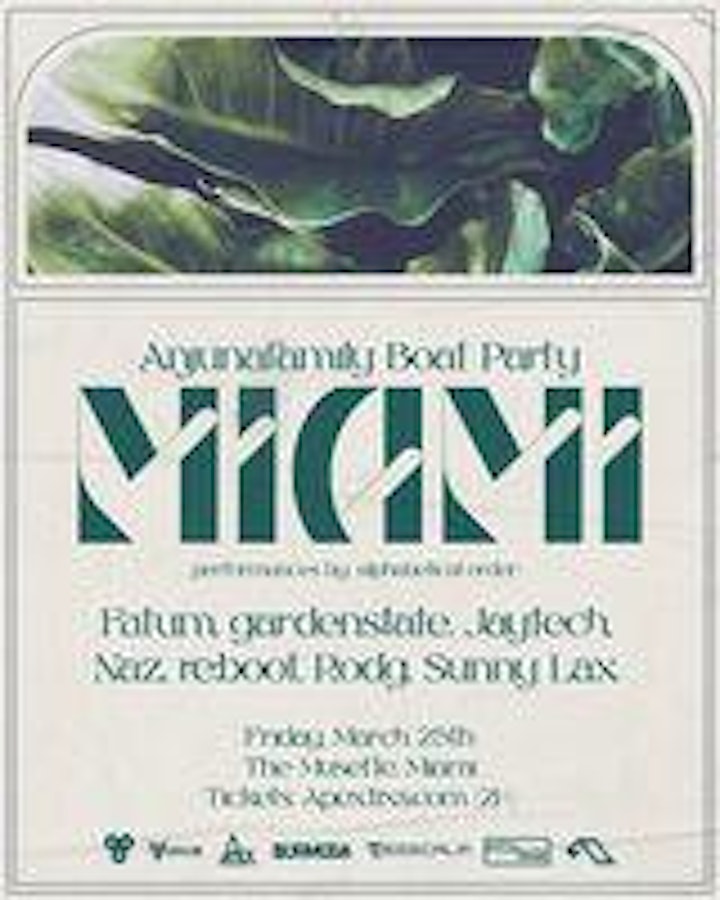 Date and time
Location
Sea Isle Marina & Yachting Center
1635 North Bayshore Drive
Miami, FL 33132