About this Event
The Southwest's biggest indoor alternative festival returns this August! Burn It Down Festival returns on Saturday 31st August 2019.
The festival will have three stages, one in each of Torbay's most prestigious live music venues, The Foundry, The Attic and The Apple and Parrot.
BURN IT DOWN FESTIVAL is set to be the next big event to hit not only Devon but the UK, so get yourselves down to the English Riviera on the 31st August
Lineup
​Basement ​ ▪ ​ ​Black Peaks ▪ DREAM STATE ▪ Fatherson ▪ Holding Absence ▪ Loathe ▪ Acres ▪ Puppy ▪ God Complex ▪ Haggard Cat ▪ SLOW CRUSH ▪ Borders ▪ THECITYISOURS ▪ Valis Ablaze ▪ Street Soldier ▪ Phoxjaw ▪ Hypophora ▪ Familiar Spirit▪ R X P T R S ▪ PATRONS ▪ As Everything Unfolds ▪​ Strike Back ▪ We Struck Gold ▪ Profiler ▪ Milo Gore ▪The Rezner ▪ The Experimental ▪ DRIFTED ▪ Confessions Of A Traitor ▪ wavebye▪ Crooked Little Sons & Hops
Venues ▪ The Foundry, The Attic & The Apple And Parrot
Date ▪ Saturday 31st August
​Age Restrictions ​▪ ​ 14+ Under 16's must be accompanied by an adult​
Tickets ▪ https://bit.ly/2Njw00c
Event Page ▪ https://bit.ly/2tEo80n
Sponsors ▪ Jägermeister, Vocalzone, Blackstar Amplification​, FTS, Signature Brew, Fireball Whisky, Utopian Brewery, RedBull.​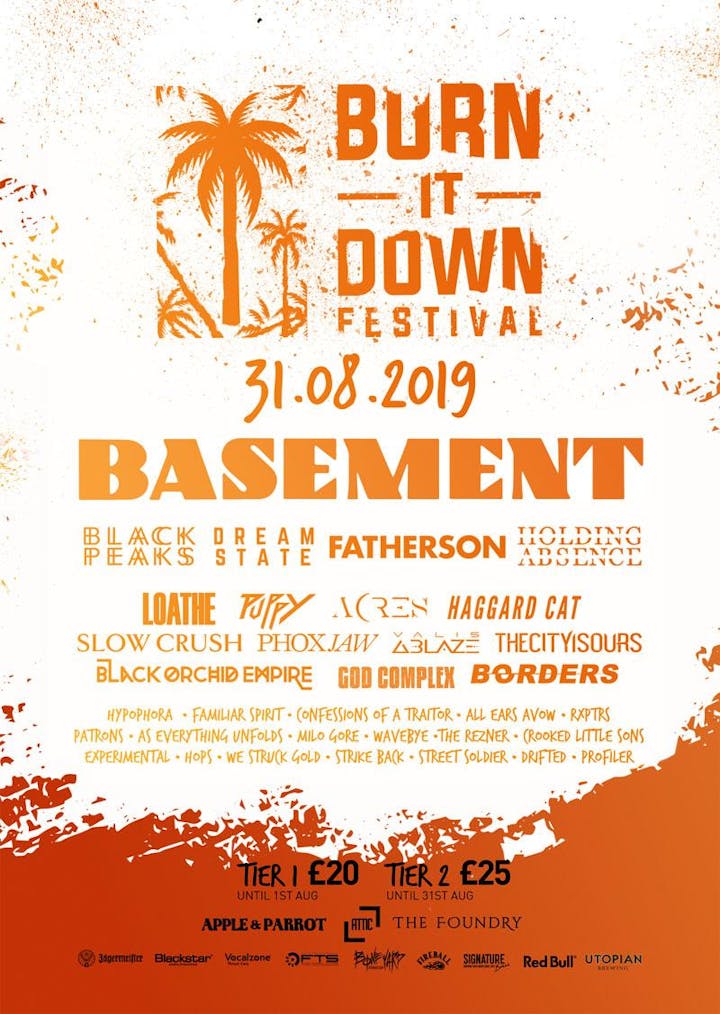 Performers
Date and Time
Location