Business Archives Council of Scotland AGM and Conference 2017
Description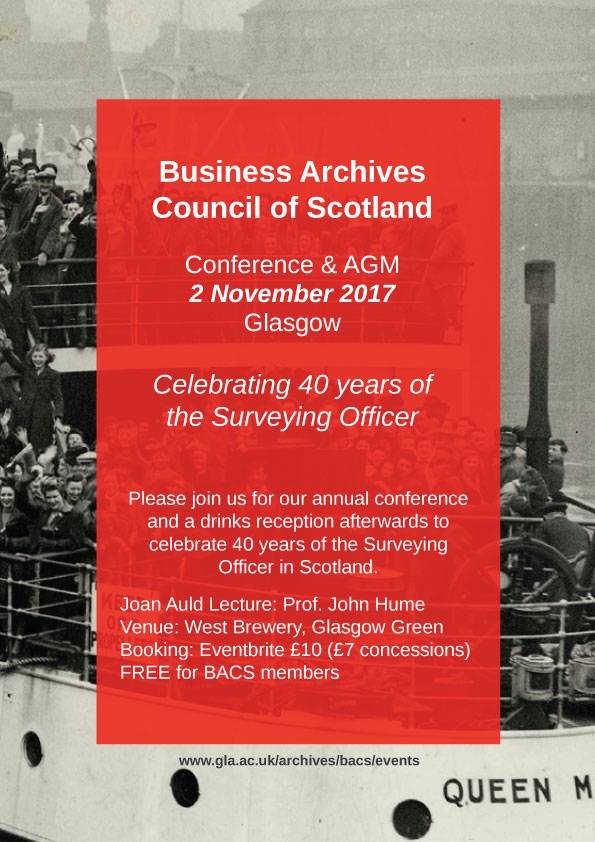 Organised by the Business Archives Council of Scotland (BACS), the event will celebrate 40 years of the Surveying Officer. The event will be held at the former home of the Stoddard-Templeton carpet factory, just one example of the many business archives the Surveying Officer has been involved in preserving.
The past, present and future success of the role, as well as its impact on the business archives sector to date.
Talks will focus on how surveyed collections have been used, the history of the role and its place in the wider business heritage landscape, how surveying can help you and how to carry out a practical survey.
The annual Joan Auld Lecture, founded in memory of Dundee's first University Archivist, will be given by Professor John R Hume.
Speakers will include:
Prof. Michael Moss, Northumbria University
Kiara King, Ballast Trust Archivist
Chris Brousseau, Archivist, Chivas Brothers
Jonathan Cleaver, University of Glasgow, Stoddard-Templeton Collection
Cheryl Brown, Business Archives Surveying Officer for Scotland
Joan Auld Lecture: Prof. John R Hume
For full programme please visit the website: https://www.gla.ac.uk/myglasgow/archives/bacs/events/
Please note the event is free to BACS members. See booking page for ticket details and to book your place.
Please also indicate on the booking page if you would like to attend the evening event from 6pm onwards.
Lunch is provided courtesy of Capturing the Energy; contact cheryl.brown@glasgow.ac.uk if you have any dietary requirements.
The event is held at WEST On The Green, The HOP Room, Templeton Building, Glasgow Green, Glasgow G40 1AW (beside Glasgow Green).
Train: Bridgeton Station via Glasgow Central Station (10 minute walk) or Bellgrove Station via Queen Street Station (15 minute walk).
Parking: Free public carpark beside Glasgow Green on Templeton Street.