Description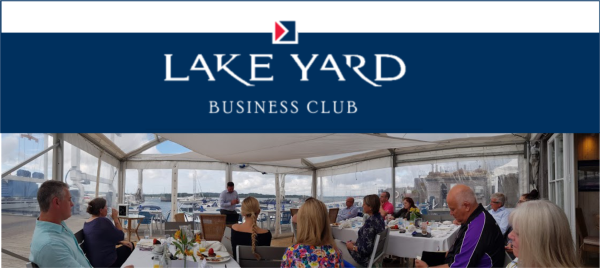 Join us for the next Lake Yard Business Breakfast at the Lake Yard Waterfront Club at Dorset Lake Yard in Poole, for a good breakfast, guest speaker and the oh-so-essential networking at a lovely venue.
---
Agenda
08:00
Tea, coffee, Registration, introductions & networking
08:30
English or continental breakfast, tea, coffee fresh juice.
Round-table discussion
Guest speaker, discussions and Q&A
Club news, AOB
10:00
End of meeting
Optional networking, follow-ups and 1-2-1's
Tickets
£15.00 for Non-Members or Guests
£22.50 for members who bring a guest, "2 for £22.50 "
When booking, please choose your choice of breakfast, either English or Continental (Fresh Fruit, Yoghurt and Granola and Pastries)
Please remember to add any allergies, dietary requirements, etc
Please note: Booking ends at 1200 Monday so that Lake Yard can prepare
Guest Speaker
Mark Howell
"Mark is the founder of The Personality Revolution, a business that helps people to transform their lives by gaining an understanding of personality. He has had a varied career as a lawyer (currently advising on behalf of Coles Miller in Poole), photographer, author and councillor. He is also Leader of Poole People, an independent political party."
Will talk about his new "Personality and the Pursuit of Happiness".
The book helps people to understand why they experience stress and low moods, and how to operate more effectively and strengthen their sense of purpose. The talk is specifically with reference to its business application.
The Club, which has been here since 1990, meets on the first Tuesday of each month and is about catching up with contacts, making new connections, sharing news and identifying new business opportunities. The atmosphere is informal and friendly and we welcome people from a wide range of businesses and professions.
At most meetings, we have a guest speaker, who delivers a short and informative talk on topics related to business, management, marketing, etc.