Description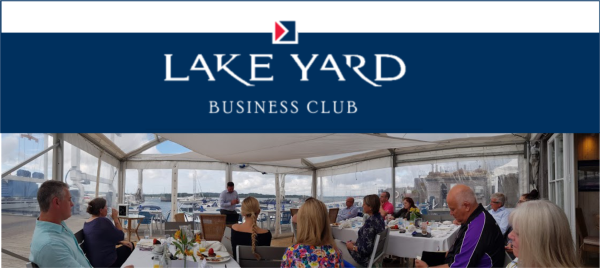 Join us for the next Lake Yard Business Breakfast at the Lake Yard Waterfront Club at Dorset Lake Yard in Poole, for a good breakfast, guest speaker and the oh-so-essential networking at a lovely venue.


---
Agenda
08:00
Tea, coffee, Registration, introductions & networking
08:30
English or continental breakfast, tea, coffee fresh juice.
Round-table discussion
Guest speaker, discussions and Q&A
Club news, AOB
10:00
End of meeting
Optional networking, follow-ups and 1-2-1's
Tickets
£15.00 for Non-Members or Guests
£22.50 for members who bring a guest, "2 for £22.50 "
When booking, please choose your choice of breakfast, either English or Continental (Fresh Fruit, Yoghurt and Granola and Pastries)
Please remember to add any allergies, dietary requirements, etc
Please note: Booking ends at 1200 Monday so that Lake Yard can prepare
---
Guest Speaker

Olly Leicester - The Health Coach - Bio
I'm a health coach, and I love what I do! I empower people to transform their health...all by simple habit changes. Change can be difficult for a lot of people...as its unfamiliar and uncomfortable...so that's why it can be very beneficial to have a coach to help you steer your ship away from ill-health...The magic ingredients of coaching are empathy, support and accountability...so I'm part cheerleader and part tough-love coach! I'll always hold you in a positive regard no matter what. Think of me as a cross between a life coach and a holistic doctor.
...and it's not selfish to prioritise your own health...the exact opposite is true. As if you're a healthier person (physically, mentally, emotionally and spiritually), you'll be a in a better state to assist others...and everyone you come across will get the best version of you.


Organiser of Business Breakfast at Lake Yard 7th May 2019
The Lake Yard Club, which has been here since 1990, meets on the first Tuesday of each month and is about catching up with contacts, making new connections, sharing news and identifying new business opportunities. The atmosphere is informal and friendly and we welcome people from a wide range of businesses and professions.
At most meetings, we have a guest speaker, who delivers a short and informative talk on topics related to business, management, marketing, etc.



 The club organiser and sponsor is Anita Potten
of telecoms agency Star Consultants and
The Southern Sustainability Partnership 
Office: 01202 971186
Mobile: 07786 261299
Email: anita.potten@starconsultrants.co.uk

More: http://bit.ly/lakeyardonwessexbusiness
Facebook: http://bit.ly/lakeyardonfacebook