Event Information
Refund policy
Contact the organiser to request a refund.
Eventbrite's fee is nonrefundable.
The aim of the Business Breakfast Club is to provide a networking platform that helps business owner, freelancers to meet potential Clients
About this event
You are invited to Join us on the 25th of September 2021 from 10am to 11:30am for our Saturday Business Breakfast Club.
The aim of the Saturday Business Breakfast Club is to provide a networking platform that helps business owner, freelancers to meet potential clients, suppliers, business coaches and business partners.
How Does Networking Benefit Me?
- Strengthen business connections. Networking is about sharing, not taking.
-Get fresh ideas.
-Advance your career.
-Access new information.
-Develop long-lasting personal relationships
Our Theme for this month is DELIVERING THE WOW FACTOR TO YOUR CUSTOMERS.
HOW TO WOW YOUR CUSTOMERS !!!!
• Stick to your word. When you promise something to a customer, make sure that you can keep your word.
• Give them more than they expect.
• Respond quickly.
• Make things easy.
• Get to know them.
• Empower your agents.
• Do regular check-ins for no reason.
• Express gratitude.
WHY NOT TAKE ADVANTAGE OF OUR EARLY BIRD TICKETS OFFER BY USING THE LINK BELOW.
https://www.eventbrite.co.uk/e/business-breakfast-club-tickets-169482802625
For more information regarding our business coaches and speakers and more about what we do please visit our website which is
https://startupentrepreneurcoaching.com/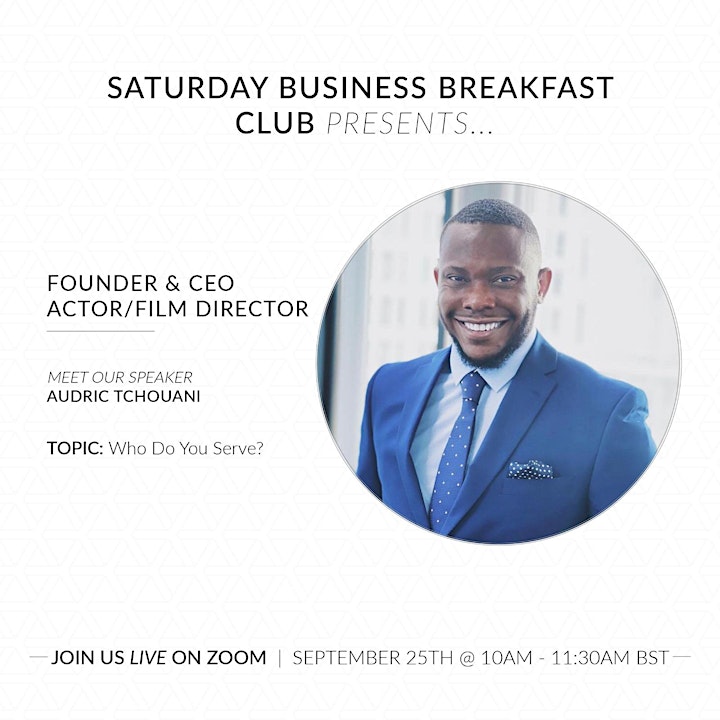 Meet our speaker for this month Saturday Business Breakfast Club. Audric Tchouani is an entrepreneur and filmmaker. He founded and owns a health and well-being company, a film production company and a consulting.
He started his career by running a digital media social enterprise. He went onto earn a degree in Financial Economics and worked for Capgemini. Since then he has founded multiple businesses in consulting, film and health.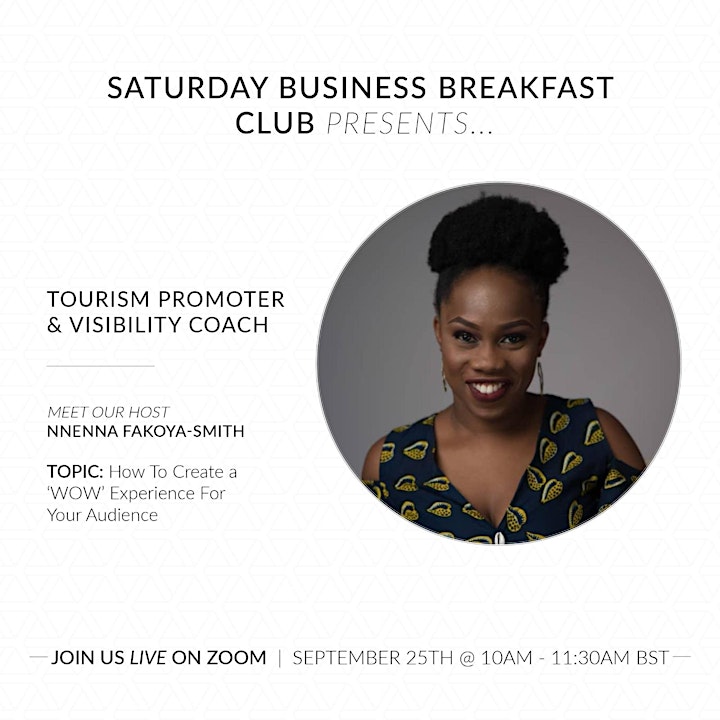 Meet our host/speaker for this month Saturday Business Breakfast Club. Ajala Nene, NnennaFakoya-Smith is a Tourism Promoter and Visibility Coach.
She is the founder of Nene-Uwa Hub Ltd, a tourism company that helps Tourism Entrepreneurs build a visible and sustainable tourism business through online strategies. As a Visibility Coach, she helps small business owners build brand visibility and sustainability through her signature program called the Audience Builder Process ™️.
She has been recognized as one of the "Young Tourism Personalities of the Year" and "30 Top Influencers in Tourism and Hospitality in Nigeria''. She has been nominated for the "Rising Star of the Year (Tourism)" and "Best Tourism Innovation Through Technology (Tourism Virtual Summit)".
Nnenna's hobbies include collecting postcards, stamps, coins, and banknotes, which got her featured on Forbes African as one of Africa's Aficionado Collectors; traveling and exploring cultures; sporting activities, arts, and singing. She is also an Afrocentric Enthusiast who loves to display her African roots.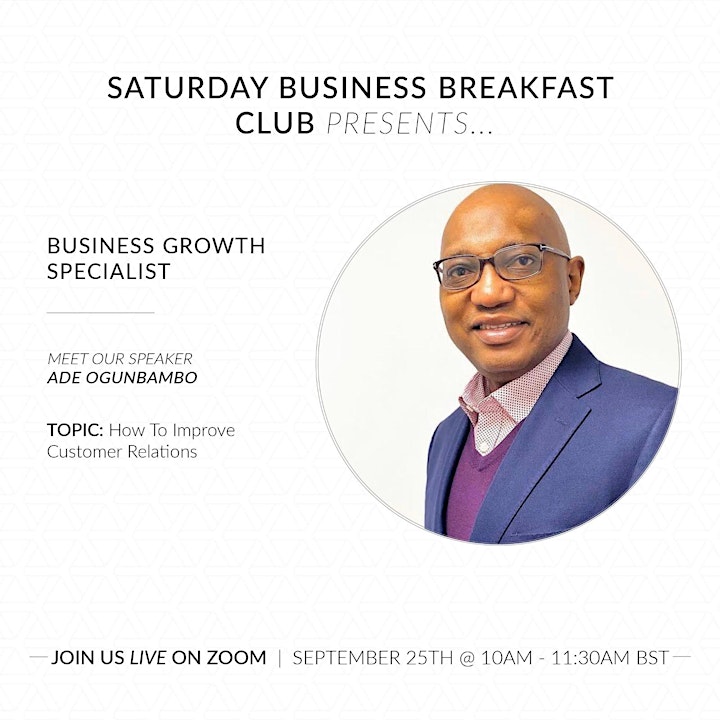 Meet our host/speaker for this month Saturday Business Breakfast Club .Ade Ogunbambo. As a business coach, his purpose is to help create a community of thriving micro, small and medium business enterprises (SMEs)to enrich society. The rationale behind this is borne out of the fact that the UK economy is powered by a successful private sector of businesses - over 97% of these are SMEs, with London being the hub of UK business.
His a fully certified business coach and a business owner with over 20 years of success. He had great success as a franchised retailer with Esso Petroleum and Shell UK and with my training consultancy which helped to train many apprentices and interns in team leading, business administration, and management with SMEs and large employers in London.
The late Nelson Mandela said, "Education is the most powerful weapon which can change the world."As an 'educator coach', he takes the time to fill in any knowledge or skill gaps for his clients so that they can be empowered to thrive in their businesses.
Also, he believes that being in business should be fun. So, he makes his coaching sessions engaging, fun, and enjoyable for his clients. He focuses on-time productivity, building the right team for growth, and increasing their revenue and profit.
The action system he uses provides the much-needed framework and tools to help his clients and their businesses to grow exponentially.
The three words that sum up what I give to my clients are passion, enjoyment, and results.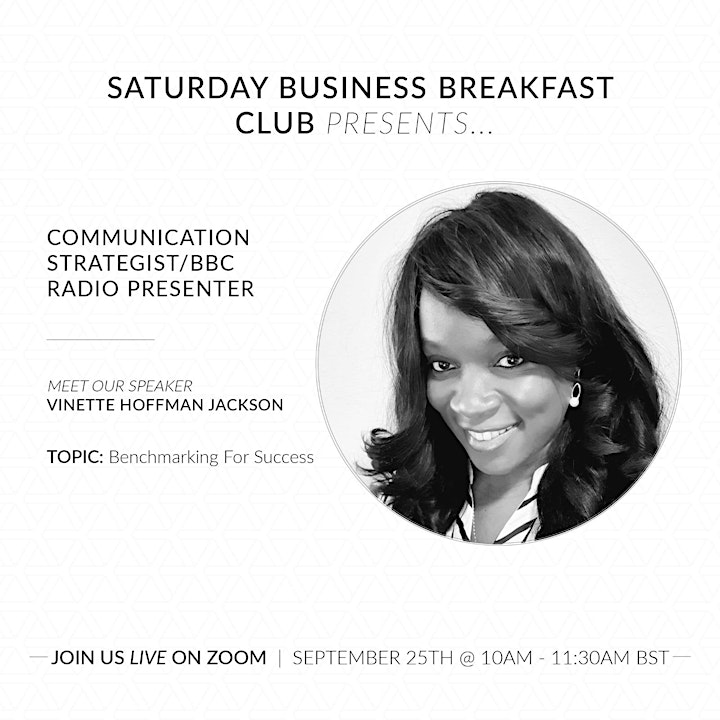 Meet our host/speaker for this month Saturday Business Breakfast Club Vinette Hoffman-Jackson, BSc, DipGrad Psychology, NPQSL, MSc(current), DSL,DTM
Vinette is a multi-faceted, multi talented inspirational speaker. Her list of achievements and accreditations include:
* An Assistant Headteacher and * Academic Mentor .
* Team Leader at Cambridge International.Examinations, UK
* Past Chair of Governor, UK
UK & Ireland International Speech and Impromptu Speaking Champion 2017/2019 representing UK& Ireland in Canada .
* BBC radio presenter
* BBC New Voice Winner 2019
* London Professional Speaker Association 'Speaker Factor' winner (2016)
* TEdx Speaker
* LUR radio Presenter and 'Behind my Smile' Chat show host
* Award winning Author and Poet (Did the Right Sperm Win? Bks 1&2, Behind my Smile, Vinette Vignettes and Journeys)
* Division Director, Toastmasters Internationsl
* Co-founder Nubian Women's International Conference
* Author and poet
She is also a contributor to business magazines like Endizine, New business and Networkshe.
She is focussed , goal-oriented and embrace new challenges.
Vinette regularly runs workshops for corporate and individuals in 'Effective presentations & How to write great speeches, Equity & Diversity and Strategiez for dealing with difficult people. She has spoken all over the world including France, Jamaica, Canada and Austria.
Vinette oozes confidence and is a fantastic speaker. Not only is she truly motivational but she uses her sharp wit and humour to disseminate her message and make it memorable. Audiences respond to Vinette with mixed emotions including laughing, inspiration and awe.
~ Nigel Oseland, Director, Workplace Unlimited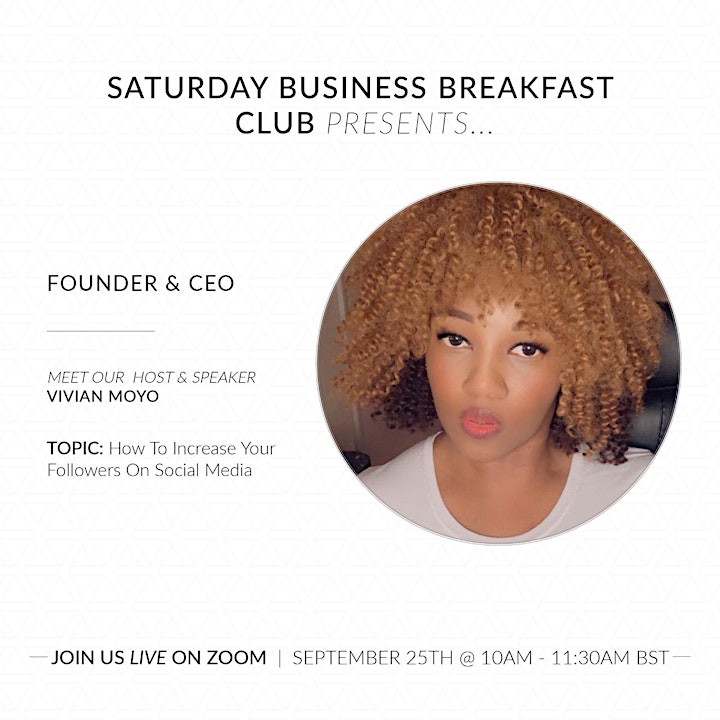 Meet Vivian Moyo is the founder of Start-Up Entrepreneur Coaching ,The You Are Beautiful Project and the Saturday breakfast club.
She grew up rejected, abandoned, unloved, and lonely, and by the age of 24 years old she had lost two kids.
She is passionate about helping people find their purpose and unleash their dreams. This lead her to create a platform for inspiring and enabling business ideas to come to reality.
Date and time
Location
Refund policy
Contact the organiser to request a refund.
Eventbrite's fee is nonrefundable.