About this Event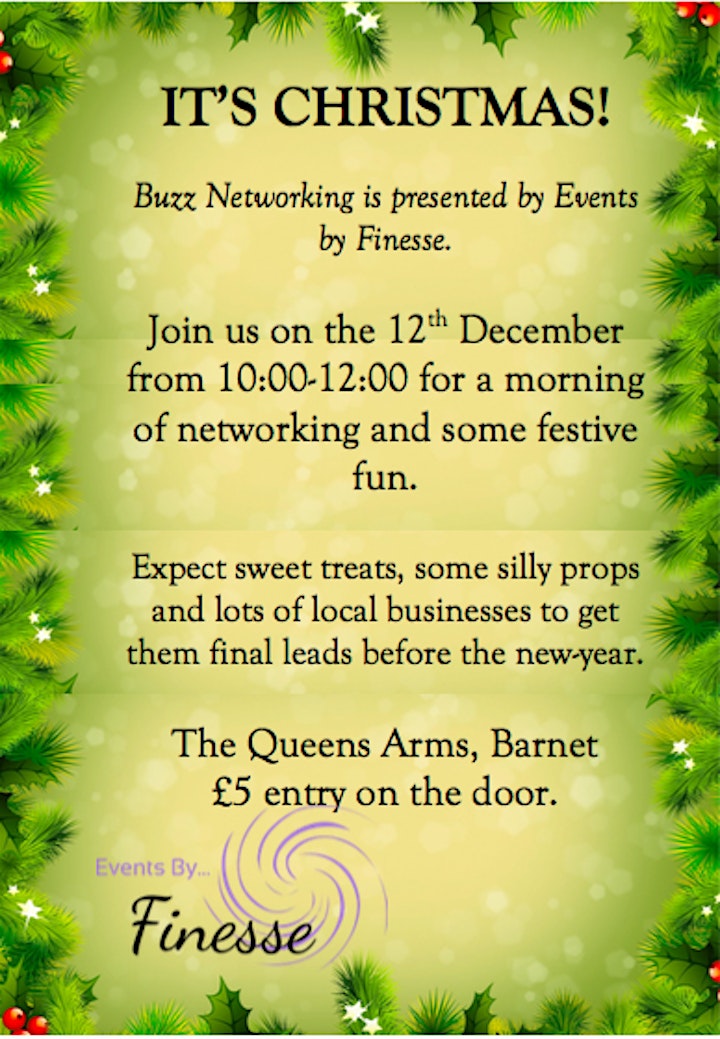 This month is our Christmas themed Buzz....
Join us for a festive Buzz this Thursday with a few gifted extras for our attendees including; festive nibbles, themed accessories and with the presentation of your business card on arrival, you will be entered into our free raffle!
2 hours of Informal Networking.
Thursday 12th December
10 am - 12 pm
The Queen's Arms, New Barnet.
£5.00 Cash on the Door.
No membership needed.
Informal mid morning business networking, no sign up or membership with a friendly welcome.
About this Event
Buzz Barnet occurs every 2nd Thursday of each month at The Queen's Arms, New Barnet and runs from 10:00 to 12:00.
We are a non-membership group that meet to build strong business relationships and network locally, with no obligations.
It is £5.00 cash on the door from 10 am and you can drop in as you wish.
There is no heavy structure apart from a quick thank you and intro round half way through so that everyone has a chance to say who they are and what they do (no more than 20-30 secs).This allows you and others to identify whether you might want to speak if you haven't already had the opportunity.
There will be tea, coffee and light refreshments to enjoy as you chat, all we ask is that you bring your professional self and your business cards.
So Buzz Barnet:
The Queen's Arms, New Barnet
10:00-12:00
2nd Thursday of every month (Sept 12th, October 10th, November 14th, December 12th)
£5.00 cash on the door
Bring your business cards
Please register your interest so we know to expect you!
Contact barnet@business-buzz.org for any questions.
Alternatively info@eventsbyfinesse.co.uk
Your hosts:
Georgina Gleghorn & Jessica Roberts – Events by Finesse
We are an Events Management company based in North London. We support our clients by organising their events and providing advice. Our services include full party planning, decor design and inspirations, venue finding and prop hire.
We create corporate events such as team away days and summer/Christmas parties.
After graduating in Events and Business Management we both worked hard in the corporate hospitality industry and made the connections we needed to.