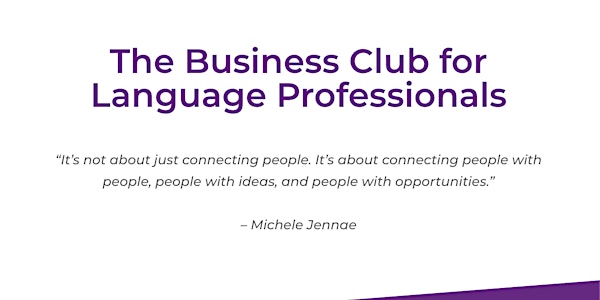 Business Club for Language Professionals (December)
Refund policy
Contact the organiser to request a refund.
Eventbrite's fee is nonrefundable.
Community - Support - Energy - Trust
About this event
The Business Club for
Language Professionals :
"An energised and enthusiastic community of knowledgeable experts, giving and receiving professional support in a positive environment."
💡What's in it for you?
Wouldn't it be fantastic if you could combine all the fun of a group of your friends enjoying a coffee (and cake - or wine, depending on where you are in the world when you join us) with the focus and combined industry knowledge of a business networking group?
The Business Club for Language Professionals launched on October 4, 2021 and if you don't already know about it, read on to find out what it's all about, and how you'd be crazy to miss out on being involved…
The Club is intended for passionate, engaged language professionals who understand the value of business connections, and who want to share their experiences, mistakes and successes with a group of likeminded peers.
I believe greatly in networking and the power of people - here's one of my blogs on the subject. So much in successful business boils down to your connections – your clients, your suppliers, your extended network of peers.
Our Club is an amazing power team of language professionals who want to get together regularly to share their wins, their struggles and benefit from each other's experiences.
⭐️ I want you to look forward to Club meetings the same way that you look forward to a drink with your friends.
⭐️ I want you to feel that you're meeting with your people.
⭐️ I want you to feel excited about being part of this community.
⭐️ I want to feel like you've developed trusted business connections who have your back.
⭐️ I want you to feel supported in your business with guidance and advice from an experienced business coach
There is no competition amongst us; it's about building each other up and filling gaps in each other's knowledge. The Club is all about transparency, honesty and trust – if that's not for you then The Business Club isn't your tribe!
Although we've all studied differently, followed individual entrepreneurial paths and have different stories, at the core we're all language professionals and we all aspire to make a success of teaching, translating or interpreting languages.
There is more to unite us that divide us, and that's just one of the things The Club seeks to leverage!
The Business Club for Language Professionals has one sole purpose, and that is to provide a bridge to a dependable, authentic, passionate community of language professionals who can provide support and encouragement to each other.
❌ It's not part of my business plan
❌ It's not an initiative to make money
❌ It's not furthering any of my professional aims and objectives
It's a legitimate and genuine effort to start something that I believe will really help this community.
I will be devoting my time to co-ordinating, managing and overseeing The Club, drawing on decades of networking, industry expertise and professional coaching to make sure it's a beneficial environment for everyone involved and offering help, support and advice wherever it's needed.
👉🏻 Wondering how the cessation of private language tutoring has affected professionals in China and whether something similar could happen in the west? The Club is the place for you
👉🏻 Seen a business coaching programme and looking for feedback from someone who's experienced it themselves? The Language Professionals Business Club can help.
👉🏻 Not sure what to charge for your services? Ask your 'Club' colleagues
👉🏻Attended a webinar and want to deep dive into some of the content that worked for you? Join The Club.
I'd love to have you there.
Nathalie