Description
Business Cornwall LIVE - GOING GREEN
Business Cornwall's focus this September, across all of its platforms, is the environment. Later this month we will be putting on an event as part of the Business Cornwall LIVE series where we will explore renewable energy and other ways to be green in business, with insight from some of Cornwall's industry experts.
An essential overview where we will establish how important adopting green practices really is for businesses.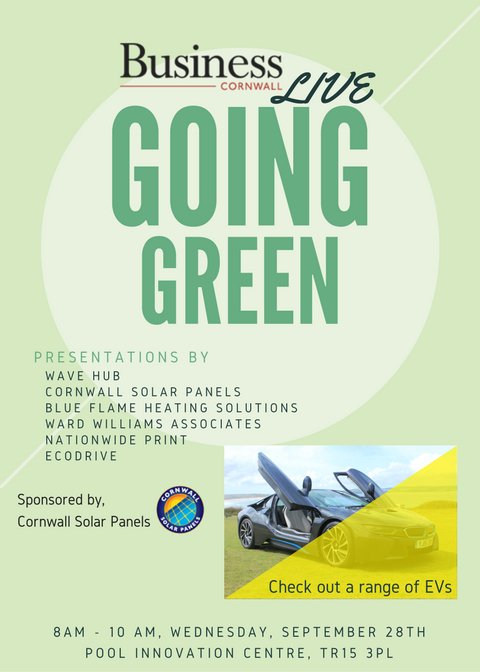 Speakers
Wave Hub on marine renewables
Cornwall Solar Panels on solar energy and energy storage
Blue Flame Heating Solutions on bio mass
Ward Williams Associates From Strategy to Delivery: Supporting Clients to achieve their sustainability objectives with our underpinning focus on financial viability.
Nationwide Print on what investing in renewables means in practice
ecodrive on electric cars
Q&A
If you still have unanswered questions, here's is an opportunity to ask the experts.
Electric Vehicles:
Matthew Trevaskis, director at ecodrive, will be telling us about EVs, including tackling 'range anxiety' and what the benefits are.
As well as this, you can have a good look at some EVs for yourself as some of Cornwall's leading dealerships will be bringing along cars for you to browse:
Parklands Toyota

Ocean BMW

Mercedes-Benz South West

Dales Motor Group

Town and Country Motor Centre
The event is sponsored by Cornwall Solar Panels:

Event Partners: