Business Coworking Day - Business & IP Centre (Library) – Newcastle upon Ty...
Description
Join us for our regular monthly Coworking Day at the Business & IP Centre in Newcastle
The Business and IP Centre is located on the 3rd floor of Newcastle City Libray which is located just 10 minutes walk from Newcastle Central Station and 2 minutes walk from Monument Metro, there are also a number of public car parks nearby too.
Spend the day working in our pop-up office – bring along your laptop or whatever you need to work on for the day. You're assured of a really warm welcome from the Business & IP Centre team and your host for the day Jo Cameron, Owner of Colleagues on Tap and Remote HR Solutions.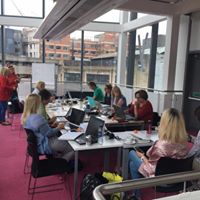 You'll have the opportunity to chat over coffee (or the desk!) with your new-found colleagues for the day, make new contacts and have a chat over coffee. After a delicious lunch (all inclusive) you'll then have the option to join in with a really informal group discussion, giving you the opportunity to share experiences, pick up ideas and new skills, and make new connections which can help you to drive forward your business. Then you can get back to work or continue to chat to your coworkers – it's up to you.
Find out more about coworking days here.