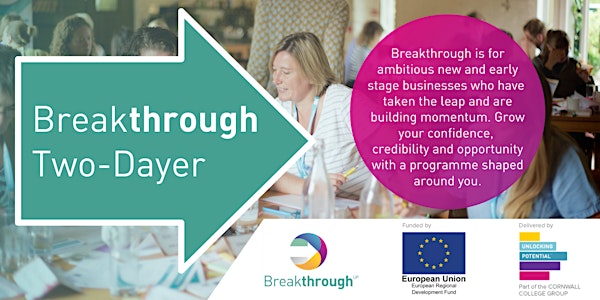 Business Development Workshop - March 2nd & 3rd @ St Austell Conference Cen...
Location
St Austell Conference Centre
St Austell Business Park
Saint Austell
PL25 4FD
United Kingdom
Description
Where next for your new or early stage business?
Our intensive two-dayers identify and, if necessary, rediscover what's brilliant about being a start-up or a business at early stages of growth by setting goals, planning strategies and building momentum.
There's no single route a young business takes once it's started and setting out. The circumstances in which you find yourself are as varied as businesses themselves. You might have been growing quicker than expected, are unsure if your business has the legs to last long term, have a niggling feeling you've become distracted and want to get back to what you do best, or you've made such good progress that you're worried about continuing to meet demand.
Or maybe you just need a place where you can test your ideas and get objective feedback for your plans and imagination.
Breakthrough will provide it.
Our intensive, facilitated approach helps you strip everything down, inspect the moving parts, hold them up to the light and put everything back together again. Glitches and niggles are often part of a young company's life; we can help you reassess and feel again that rush you had when your idea first caught alight.
During the two-dayer, we'll cover:
· Marketing: How to review marketing channels to figure out what works and to make sure you're getting the most from precious, limited resources.
· Financials that work for all: customers are happy with the value you offer and pay well for it, generating sufficient income to keep your business growing and reward you and your staff well enough to retain and recruit, which maintains the value of what you offer ...
· Customer segmentation: how to group customers to help you compose meaningful messages and not waste valuable resources.
· Design value into your value proposition: the 'value proposition' is the proposition you make to the customer. Its value is what they get in return for what they spend.
· Personal brand: What are you like? What do others think of you, and why? Until you take a really close look at the messages you're sending (intentionally and otherwise) you're unlikely to know.
· The learn, build, measure methodology: Building businesses responsibly while minimising risk. Using techniques borrowed from the science lab, you can build a robust business which does what your customers are willing to pay for.
An experienced Business Development Manager will help you with all this. Book early as places are limited. The Breakthrough two-dayer is free to attend as is fully funded by the European Regional Development Fund (ERDF).
We look forward to seeing you!