Business Emotional Intelligence Profile (EBW) Certification London
Description
Overview
The EBW Emotional Intelligence Certification programme certifies you in using the leading global assessment of Emotional Intelligence at work (Business Emotional Intelligence).
During this programme, you will not only learn how to use the EBW assessment but take part in practical exercises to explore the reasons why your colleagues and clients may struggle at work and how to change their performance.
At the end of this programme, you can continue your learning by accessing free tools to coach others and additional training modules to enable you to run workshops and programmes.

Coaching Talent Programme
Developing Emotional Intelligent Leadership
Building High Performing Teams
Communication and Boosting Performance programme
Recruitment


What is Business Emotional Intelligence?
Business Emotional Intelligence is a practical, work-based approach to Emotional Intelligence that helps individuals and teams understand why people behave the way they do and how to maximise their engagement with, and performance at, work.
It consists of 8 primary emotional behaviours that drive performance.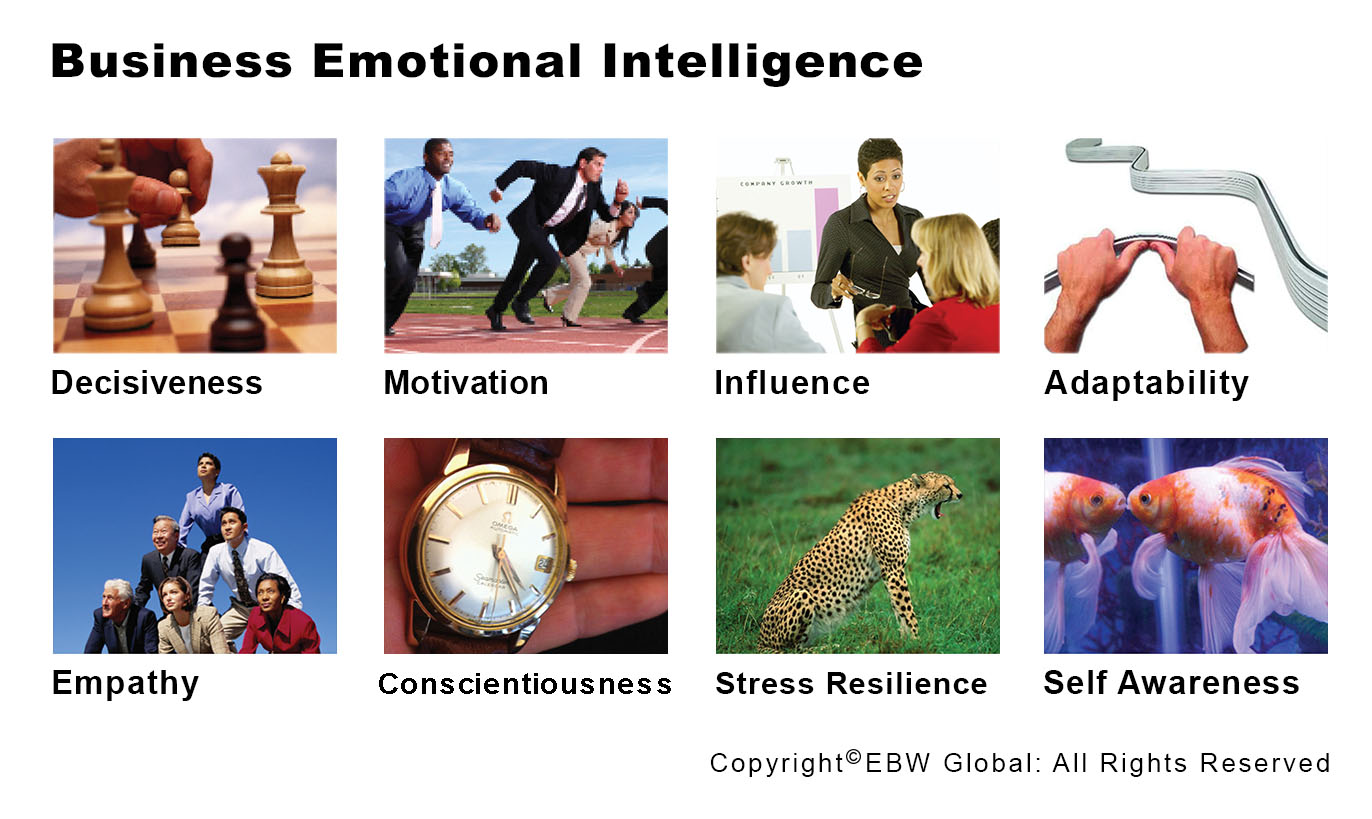 Is it for me?
The EBW Global Emotional Intelligence System is a unique global assessment and development tool for Managers, Coaches, Trainers, HR experts and Psychologists.
Based on over 20 years of worldwide use and research, the EBW System enables you to get leaders, managers and teams to use their Business Emotional Intelligence to understand why they behave the way they do and use the right tools to improve their occupational performance.
By being certified on the EBW you will get access to our extensive knowledge library, with its white papers, case studies and marketing tools that will enable you to easily create the business case for investing in Business EQ with senior leaders and budget holders.
You will have expertise and the tools to be able to work with individuals and teams to make them become much more effective by better managing their emotions and behaviours in the workplace.

You will find this intuitive assessment resonates with leaders and teams, with its 10-step framework which enables you to provide measurable results and ROI.
Being a global tool, it provides you with a practical and straightforward approach that works across all industries and cultures (it is available in multiple languages, including: Arabic, Korean and Chinese).

Getting certified on the EBW assessment, with its unique tools and programmes, enables you to offer a no nonsense approach to Emotional Intelligence that changes how people work together to provide measurable performance change.

Programme Schedule - what is involved
The 4-part intensive programme includes a mixture of online learning, a full day of on-site training, practice assessment sessions and 1 to 1 coaching.
Plus, free ongoing support from the EBW team, all of which ensures you will be confident in your ability to use the EBW Emotional Intelligence System effectively.
Online Training

Become the expert - Develop your subject knowledge with two online modules on Emotional Intelligence and psychometrics.
Understand and develop your Business Emotional Intelligence with your own personal EBW Business EQ Report.
On-site training

A full day of training (9am-5pm), to maximise your learning, experience and application of this powerful tool.
Enjoy detailed discussion on introducing and applying the EBW Business EQ methodology with your colleagues and new clients.
Practical Experience

Build practical knowledge, experience and confidence by assessing & providing feedback to others with 3 EBW assessments. Get your colleagues and clients to try out this tool with you.
Personal Coaching

Gain your certification through a coaching session with one of our Business Psychologists on improving performance with Business EQ.


What can I expect from the EBW Emotional Intelligence Certification?
Organisations
Use the EBW assessment to gain insight into your managers and leaders so you can make informed choices about where they can best serve the business.

Learn to develop your talent using the EBW 10-step framework that guarantees business success and avoids the risk of putting managers in positions that expose them, their teams and the business to failure.

Save time and money using EBW assessments & programmes that enable you to recruit with certainty and empower your leaders and teams to transform your organisation.
Consultants/Coaches/Trainers
Have access to a reliable & accurate Business EQ assessment tool that enables you to quickly identify clients' blind spots and take them to the destination they desire.

Earn a reputation for delivering guaranteed and measurable results and helping your clients advance in their careers and their lives.

Increase your income by using the EBW assessments, tools and programmes and gain more referrals from satisfied clients.