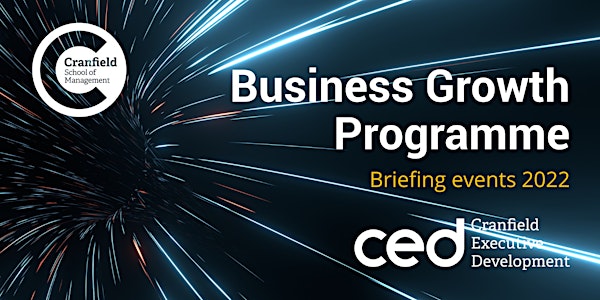 Business Growth Programme | 2022 Briefing Events
Find out more about our Cranfield's Business Growth Programme | Date: 12 July 2022 @ 6pm
About this event
Date is 12th July, starts at 6pm GMT.
Designed specifically for the development of owner-managers and senior management in SMEs, the Business Growth Programme helps you create the future you want for your business and for yourself.
This online event will give you the opportunity to think about the challenges that are facing your business currently and to learn about the foremost reasons that prevent SMEs in the UK from growing. This workshop will give you the opportunity to then think about how you can go about fixing those problems, along side likeminded owner-managers.
You will also have the opportunity to find out about Cranfield's Business Growth Programme which has been helping businesses grow for the past 30 years.
The BGP counsellors are central to the journey and play a key role in the development – and indeed the lives – of the participants that they mentor. In many cases the relationship does not end when the programme ends, but often continues well into the future, as does the bond formed between the delegates themselves.
https://www.cranfield.ac.uk/som/open-executive-programmes/growing-businesses/business-growth-programme