Description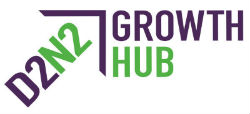 These free, one to one sessions offer guidance and support to help you grow your business. They are part-funded by the European Regional Development fund and are hosted by D2N2 Growth Hub in partnership with Gedling Borough Council.
If you need valuable advice and insight to help your business flourish then this business clinic is for you. You will be given the opportunity to pose questions, get practical tips and obtain incisive information.
In this one-to-one 90 minute session, a D2N2 Growth Hub Business Adviser will be available to give you the right advice for your business needs. So whether you need access to finance to expand, guidance on the latest legislation or practical business support, you will be provided with up-to-date, valuable and relevant information.
Depending on your business needs, a follow-up business review can also be arranged which is a free of charge service to small and medium sized enterprises across the D2N2 region.
Once you have connected with the D2N2 Growth Hub you will also have access to workshops and events, regular updates on the latest funding news and they will keep you informed of any regional or national programmes that will help with your growth plans.
Client Feedback from a previous Busines Health Check session
"I contacted the Growth Hub for a business mentoring session with Paul Humphreys via the EventBrite app. This 90 meeting was free for me and the reason I booked it was that I felt that I was at a standstill and needed a little guidance as where to go next. I am an ex teacher launching a brand new e-safety and IT Training business and needed some reassurance that I was heading in the right direction as it was all new to me. Paul assured me that my business idea was viable and had legs! He put my mind at rest that I was on the right track. He also pointed my towards the Digital Growth Hub. Here you are able to access countless fantastic courses so that you are skilled up in the various digital marketing avenues needed to get your name out there. So far I am now well up on my SEO, I am ready to launch my email marketing campaign in January and have already started blogging. I am booked in for a few more courses but I now feel much more confident to launch the business in January." Sally Davies, Director, JumpstartIT Training Services Ltd


For more information please contact:
Kathryn Banning, Economic Growth Project Support Officer, Gedling Borough Council
Email: Kathryn.banning@gedling.gov.uk
Tel: 0115 901 3863
ERDF

This event is part-funded via the European Regional Development Fund, therefore we are required to evidence that you are a small to medium enterprise. There will be a couple of forms that will need to be completed on the day. One form is to ensure you are a small to medium enterprise, the second is to capture any business support you have received over the last 3 years to ensure you haven't exceeded €200,000. If you have previously completed these forms at a D2N2 Growth Hub event you will not have to complete another set.