Event Information
Location
Strand Palace Hotel
London
United Kingdom
Description

As Diva Visions is a unique female business club, we wanted to hold a special event before the end of the year to highlight the business and feminine aspects of being strong businesswoman succeeding in a mostly male-dominated business world.
And thus, the Business in Heels Luncheon was born!
This swanky event promises to be an inspirational day which will focus on highlighting and celebrating the success and achievements of women in all aspects of life.
Business in Heels will be taking place on Saturday 2nd November from 12pm until 4pm at the luxurious Strand Palace Hotel in Central London. The Luncheon will consist of two courses (a main course and a dessert)**.
As many of you know, women are beautiful, vibrant, intelligent, sacrificing and above all - strong. The strength of a woman is often not physical but spiritual - it includes her fearlessness, the wisdom and knowledge which she possesses, and her innate ability to overcome and rise above life's little struggles.
This exciting occasion will be calling on women from all backgrounds, cultures and industries; to come together on this special afternoon and celebrate the journeys and accomplishments of their fellow sisters.
This celebration will be welcoming a number of special guest speakers - including award-winning entrepreneur and founder of Diva Visions, Mavis Amankwah - who will be sharing their fascinating stories and wisdom on business and success.
This type of event will be a perfect lead up to Global Entrepreneur Week, which will be taking part from 18th - 24th November.
BOOK NOW! See you there in a gorgeous pair of heels!
** Once you've booked your tickets, you'll be emailed by us the full Luncheon menu for you to make your choices.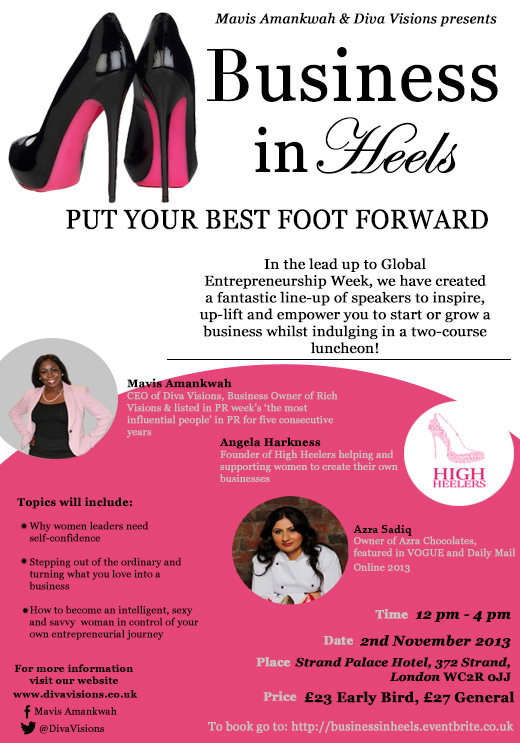 Date and time
Location
Strand Palace Hotel
London
United Kingdom