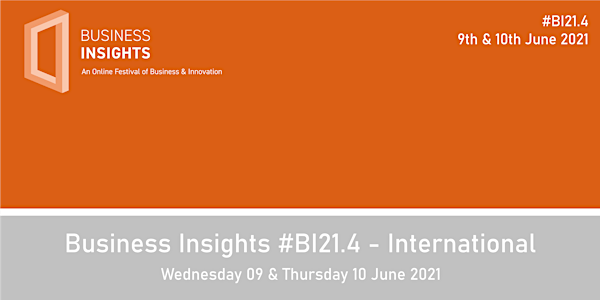 Business Insights #BI21.4 - International Festival of Business & Innovation
Business Insights #BI21.4 - International Festival of Business &Innovation
About this event
Business Insights #BI21.4 – International Festival of Business & Innovation
On 9th & 10th June we're looking forward to our Internationally Focused Festival of Business & Innovation.
Two days full of Forums, Discussions and LIVEstream events exploring and unpacking the most important topics facing the business community.
Supporting #BI21.4 – International, our virtual 3D exhibition is running 24 hours a day 7 days a week and is backed full of exhibitors, our guest art exhibition, out network hub and the festival line up room.
You can visit the online 3D exhibition anytime at:
https://www.business-shows.co.uk/business-insights/the-exhibition/
We hope you can join us at #BI21.4 – International, once you have registered for the general admission, you'll be directed to the options for registering for each event.
We're looking forward to seeing you!