Business Insights International SME Network for business to meet international connections and grow new, innovative, opportunities
About this event
If you are a Small or Medium Enterprise (SME) interested in doing business internationally, please join our conversation!
The Business Insights International SME Network (BIISN) hosts exceptional meetings on the first Wednesday of every month, bringing together international business leaders from around the globe.
Different from a traditional "networking" event, we work to actively understand your business and your interests in connecting to new business opportunities.
Our meetings are always interactive, informative and fun. Here is what you can expect in our 90 minute session:
Our SME Interview—A conversation with selected professionals, focused on their story of what, when and how their enterprises are finding success.
Our "One Minute" Round—Your chance to introduce yourself, your business and the needs you have to maximise any international business opportunities.
Our "Business Challenge" Question—Your time to join a breakout group and contribute your ideas in answering our monthly business question
If your goal is to foster valuable business relationships with business owners and entrepreneurs, worldwide — join us and see how we inspire new collaborations to strengthen business transactions and sales within and across geographies and markets.
BIISN, based in the UK, supports a world view for SME's across the planet. Join us every First Wednesday for a better networking experience!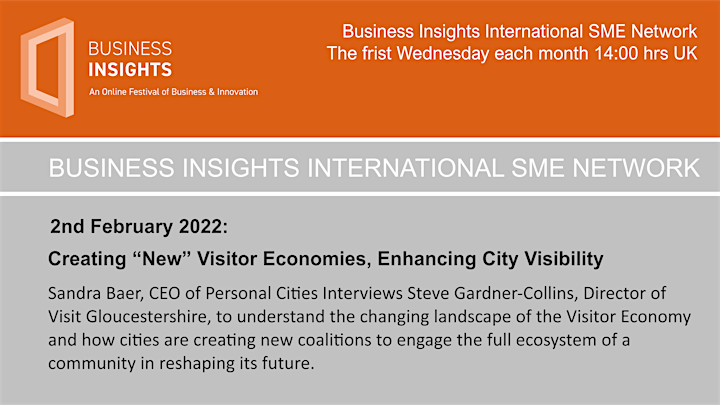 Sandra Baer, CEO of Personal Cities Interviews Steve Gardner-Collins, Director of Visit Gloucestershire, to understand the changing landscape of the Visitor Economy and how cities are creating new coalitions to engage the full ecosystem of a community in reshaping its future. You will hear Steve's perspective on how to leverage our continuing evolving environment and craft a balance of growth and resilience for our towns and cities. Our collective ability to appreciate the value and character of our community and communicate it—to our citizens and to the rest of the world—will help us build more attractive places.