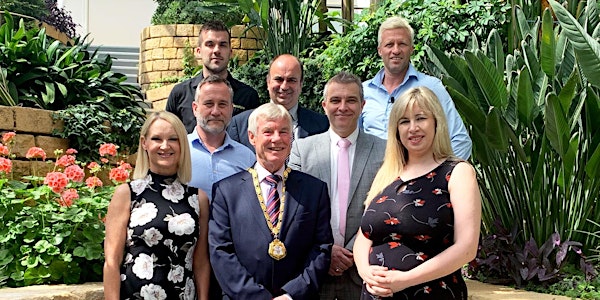 Business Live Health & Wellbeing at Bannatyne Health Club MK in partnership...
Event Information
Location
Bannatyne MK
Avebury Boulevard
Milton Keynes
MK9 1DG
United Kingdom
Description
"Unfortunately, while health and safety in the workplace is standard, health and wellbeing is all too often an after-thought. We want to change that" Victoria Beale, CEO Business Live UK Limited
Business Live UK will be hosting their very first Health and Well-being event at Bannatyne, Milton Keynes, in the heart of the beautiful Winter Gardens from 6pm till 8.30pm. The purpose of these unique events is to bring together responsible business owners and Senior HR Professionals to explore the range of solutions available to address both physical and Mental Wellbeing within the workplace, whilst enjoying the hospitality of our hosts Bannatyne Gym & Spa and meeting with like-minded people.
We are pleased to have 3 very engaging speakers at this event, providing genuine insights through their own personal stories and experience. We will also be supported by a carefully selected group of service providers and institutions that offer services and solutions, to help address the fundamental Health & Wellbeing issues.
If you are a business owner, an HR professional or if you are responsible for the health and well-being of staff, then this event is a must..
All attendees will receive a FREE Perks Direct annual membership worth £100, plus 2 day passes for Bannatyne gym and spa and complimentary buffet and drinks.
Health & Wellbeing is the biggest topic of the moment and more and more people are taking time off work through poor health. Smart caring companies are taking action and this is a great place to start or to get ideas on what you could be doing.
Come along after work and relax and enjoy yourself. Meet like-minded peers, enjoy some free drinks and food and watch some highly engaging speakers.
---
If your business is providing a service within the health and wellness industry, then please contact us to enquire about participating in one of our events.
To discuss exhibitor opportunities please contact hello@businessliveuk.uk for more information
---
Schedule on the day
1800 - Arrival, registration, informal networking, light buffet and refreshments
1830 - Welcome hosts (Bannatyne) and organisers (Business Live )
1845 - Speaker 1
1900 - Entertainment
1930 - Speaker 2
1945 - Business card draw
2000 - Meet the sponsors
2020 - Informal networking/ Club tour
2030 - Close
Confirmed speakers:
Billy Schwer: Ex-world champion boxer now personal performance coach and motivational speaker.'Mental Boxing' is there to help you win the battle with that consistent voice inside your head always spewing negative thoughts. Billy wants to help business owners and employees to win more often and experience more success.
Jon Manning, Arthur Ellis: Mental Health Support: Talking about his journey with Bipolar Disorder and despite his condition, he maintains a passion for solving these issues and helping others through their own personal journeys.
Moska Khan and Mansi, Cambridge Weight Plan: With over 30 years experience in the diet sector, The 1:1 Diet is the perfect plan to keep you healthy with a team to support you all the way through your personal journey. Moska and Mansi will be speaking about weight loss with The 1:1 Diet and how to maintain this long term. Also, they will explain the health benefits related to weight loss.
Amanda Coles: Amanda is an NLP Clinical Hypnotherapist and Life/Business Coach. With her strong background in HR, Amanda can advise companies on their mental wellness strategies and also works with individuals who want to remove negative thought patterns, beliefs, habits and behaviours so they can be more successful in life and business. Amanda will be speaking about her background and how she can help SME's and business owners to implement mental wellness strategies that improve engagement, retention and profit.
Sponsored and supported by:
Smart Recruit Online, Reed, Your Office Space Limited, BusinessMK, Arthur Ellis & Milton Keynes Council.
Date and time
Location
Bannatyne MK
Avebury Boulevard
Milton Keynes
MK9 1DG
United Kingdom