Sustainability - How can business play their part, support the environment and save money? Join us to hear more
About this event
Join us for a chance to interact with experts to understand how you make the most of COP26 in the UK to make a different for your organisation.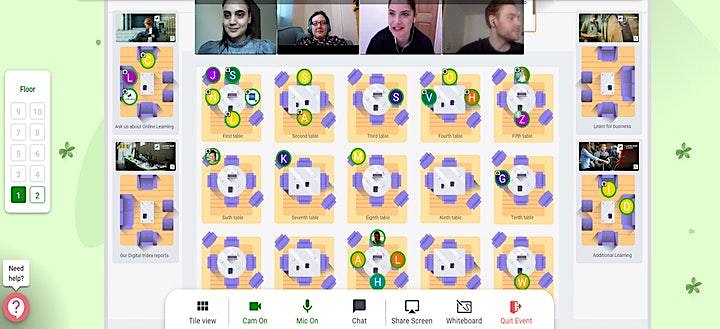 Each month, the group will focus on a key area designed to help you succeed in business. We will bring to your computer, interesting, informed and relevant industry leaders delivering keynote presentations to provide you with the opportunity to learn from their vast experience. We want to give you, as a small business leader, a moment to think and reflect on your approach and a chance to share and converse with your peers.
With many challenges ahead as we move towards the 'new normal' it will still be a while before we can meet peers face to face to network so why not join other SMEs on our virtual networking (see above). You can sit around virtual tables of 6 to talk over videos to learn from each other or network. Easily move from table and the click of the mouse or double tap.
Previous Lloyds Bank Academy attendees have said:
"This was my first experience of virtual networking and it worked brilliantly. The table layout made this feel very natural."
"Loved the tables for networking and the ability to remain interactive whilst the actual talk was happening was great! "
"Best online event I have attended in terms of speakers, hosting and platform."
Eventbrite is a third party application. This means it is not owned or operated by Lloyds Bank. If you use this application you must sign up to Eventbrite's Terms of Service, Privacy Policy and Cookie Policy. You can review your marketing preferences once you have created/logged into your account by selecting "Account" then "Email Preferences".
The views and opinions expressed in events are those of the presenters and do not necessarily reflect the views and opinions of Lloyds Banking Group. While all reasonable care has been taken to ensure that the information provided is correct, no liability is accepted by Lloyds Bank for any loss or damage caused to any person relying on any statement or omission. This is for information only and should not be relied upon as offering advice for any set of circumstances. Specific advice should always be sought in each instance.
Following this event, Lloyds Bank Academy may contact you with a request for feedback or to provide details of other upcoming events. Your details will not be used for any other purpose. By signing up for this session you are agreeing for your information to be used in this way.
Organiser of Business Masterclass: Sustainability