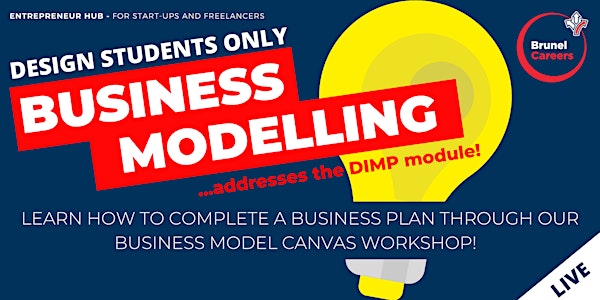 Business Model Canvas workshop (SusEd & Design students only - DIMP Module)
Event Information
Location
Brunel University London
ESGW 003a
also running online via zoom (see booking form to choose the option you would like)
Uxbridge
UB8 3PH
United Kingdom
This workshop is for Brunel University London final year Design students and aligns with the DIMP module as well as SusEd students!
About this event
Are you a final year design student, required to complete the DIMP module? Attend this Business Modelling workshop to explore your final year project and recieve support!
Time: 13:00 - 16:00
Location: TBC - Would you prefer online or in person? please complete your preference on the booking form.
In person - ESGW 003a, Brunel University London
Online - Zoom
This free Business Model Canvas workshop, ran by the Entrepreneur Hub (part of Brunel Careers) is specifically targeted at looking at your final year project from a complete business viability perspective.
The session is interactive and you will produce output that should directly be relevant for your DIMP module that carries course marks.
Brunel University London final year design students only | any questions please contact hub@brunel.ac.uk.
Date and time
Location
Brunel University London
ESGW 003a
also running online via zoom (see booking form to choose the option you would like)
Uxbridge
UB8 3PH
United Kingdom