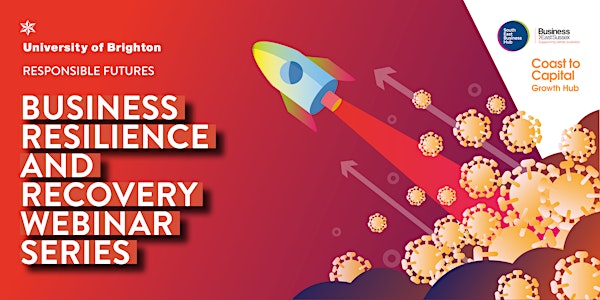 Business Resilience and Recovery Webinar Series
Free four-part webinar series, created in partnership with Coast to Capital and Business East Sussex.
About this event
Business resilience and recovery webinar series
This free four-part webinar series, created in partnership with Coast to Capital and Business East Sussex responding to themes emerging from clinic sessions with businesses since the outset of the COVID pandemic. Speakers will include experts from the University of Brighton's Centre for Change, Entrepreneurship and Innovation Management (CENTRIM).
All webinars will have plenty of opportunity for questions and answers throughout. The sessions are free and will run between 12-1pm on the dates below. Talks will be hosted by Teams Live, joining instructions will be sent via email two days prior to the webinar.
Please note the date of the webinar(s) you wish to attend before clicking through to the registration page.
Wednesday 27 May - The Digital Device Landscape: When to phone, when to message, when to email, when to video call
Speaker, Paul Levy
It's time to get practical about digital devices at work.
In a regular office working environment you may have internal IT strategies, rules and procedures governing how you work. In some work environments these may be adhered to, but elsewhere it's common to see smartphones on laps during meetings, corridor phone conversations, sensitive company information being shared on personal devices, leaders and staff in various states of digital addiction, managers emailing when they should be talking, and colleagues in videoconferencing overload.
With the COVID-19 pandemic making home-working the norm for many, we've never been more dependent on our devices, which risks amplifying some of the issues outlined above, so how do we bring integration and skilful use to our devices? And how do we avoid message replication and communication explosion?
In this practical, gritty, and hands-on session targeted at businesses who have increased their dependence on digital communications, we will address these problems and questions, aiming to get you thinking about how to use digital services effectively during lockdown, and avoid the pitfalls.
Friday 29 May - Crisis Innovation
Speaker, Dr George Tsekouras
Crisis can trigger innovation, transforming companies and fostering new growth perspectives. This webinar will explore the steps business executives and managers can take using innovation as a tool to deal with the unexpected consequences of crisis.
Real case studies and findings from established research will be used to address the topic.
Monday 1 June - Digital Transformation
Speaker, Asher Rospigliosi
With COVID-19 impacting on the way almost every business operates, digital approaches are having to be adopted at speed. This webinar targets companies who are transitioning into digitisation of business processes and will outline key considerations across the following topics, giving examples to illustrate a range of options and approaches, looking at range of important factors for SMEs including web presence, working digitally and system options.
Thursday 4 June - Exploiting Agility for Advantage
Speaker, Dr David Francis
We live in a time when it has become increasing critical for organisations to be agile – alert to potential disruption, quick to find and exploit opportunities, able to avoid threats and flexible enough to adapt to a different future.
This webinar will introduce you to a seven-step work-programme that enables organisations to become requisitely agile, meaning 'not too much, not too little and organised in the right way.' The seven steps include; orientating, predicting, diagnosing, envisioning, scoping, customising and delivering.
All webinars will be recorded and made available via the University's YouTube account at a later date.