Location
Ashton Gate Stadium
Ashton Road
Bristol
BS3 2EJ
United Kingdom
Description
*PLEASE SCROLL DOWN & READ BEFORE REGISTERING
PLEASE NOTE - as of 5.30am on 10th October, when you pre-register online here, you will not have a namebadge ready to print at check-in. However, just give us your name on arrival and we'll print one for you.
Sponsored By:


The largest free business exhibition/event in the South West of England. This is where you register for your FREE delegate tickets.
Our Full Event Brochure is now LIVE and online: you can view the exhibitor list, workshops, seminars, keynotes and much more here.
* Read our privacy and data policy here
* If you want to exhibit at our 19th June 2019 Showcase, please email us here -exhibit@showcaseeventsuk.com or call Sarah today on 01275 390 455.


What is the Business Showcase South West?

Welcome to the largest free business event in the South West of England. Now in it's 5th year, this is a bi-annual B2B exhibition where you can meet hundreds of great companies, make unlimited new business contacts and network all day. It is free to attend, travel and park, as are the bespoke Workshops, Keynotes, Seminars and Speed Networking sessions. You can find out much more, see films, view galleries, book stands and more by visiting our website here.



How To Get There - COMPLETE FREE Travel System

- We are pleased to be offering robust and completely FREE travel. We use a dedicated delegate car park and First West of England provides a dedicated fleet of frequent / very frequent shuttles. We also run shuttles from key points in Bristol. Please see the travel guide here.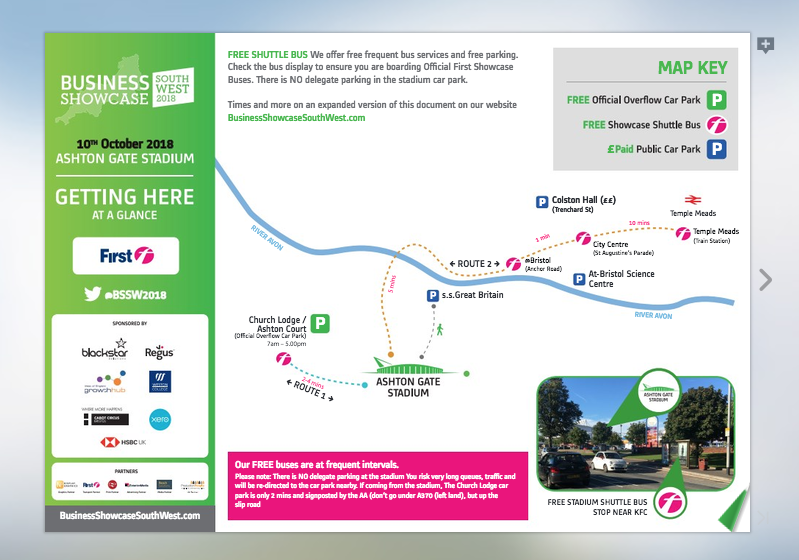 Important Information
- Keep a look out for updates on our website and via our e-shots. When booking, please add your twitter and mobile number for a couple of essential text updates.
- To avoid large queues / delays, please plan your journey by using our comprehensive 'How To Get There' guide above. We encourage delegates to use our FREE official hard-standing overflow car park with frequent shuttles at Ashton Court just 3 mins away (Church Lodge entrance) and our other spots.

- Please take advantage of our FAST, FREE SHOWCASE SHUTTLE BUSES, from key destinations around the city. All of your team can jump aboard and be taken directly to the stadium: there may also be some networking opportunities on-board too! TBC.
When & Where

Date: Wednesday 10th October 2018
Venue: Ashton Gate Stadium, Ashton Road, Bristol BS3 2EJ
Times: 10.00am-4.00pm


Want to Attend the Breakfast Networking?
This is a separate, very popular paid-for event that takes place on the early morning of the Showcase. Places are limited. To find out more and book your place, please visit this link here.

THIS IS SOLD-OUT
Want to Exhibit in June 2019?
There are approximately 260 stand spaces at the next event on Wedneday 19th June 2019 and superb promotional opportunities. To discuss booking for the event, please contact Sarah today on 01275 390 455 or at exhibit@showcaseeventsuk.com