Description
Could your company be even more successful than it is today, and if so, how? That is the essential focus of Business Strategy - determining "Where do we play, and How do we win?"
Nowadays, the stakes are higher than ever and the pace of change is unrelenting. Join us for a discussion which integrates theory and practice to deliver powerful insights and tools to help your business succeed in today's hypercompetitive marketplace.
This interactive workshop is packed with practical tips and advice and will cover:
What business strategy is and why it matters

How to develop and execute a successful business strategy

Proven frameworks and examples from top companies and thought leaders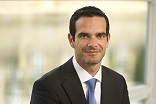 About Karl Rego
Karl Rego is a board advisor, entrepreneur and investor with 20 years' experience helping businesses grow. He has held leadership roles in start-up, scale-up and Fortune 100 companies, and has advised some of the world's most successful businesses. His strategies have delivered millions of dollars in benefits to clients and his experience spans the UK, Europe and the USA. Karl is also a keynote speaker, whose talks have been featured on the radio and in prominent print and online media. He holds an MBA and is a recognised authority on purpose-driven business and scaling up. He now helps companies become more valuable by guiding them through the process of strategy setting and execution.