About this Event
POSTPONED DUE TO COVID-19
Given the unprecedented situation we're all facing as a result of COVID-19, West Sussex County Council have made the correct decision to postpone all our West Sussex Business Strategy Workshops this month.
It is our priority to keep all our team members, co-workers and attendees safe. In light of this, if you have signed up to our event already we will hold your place and give you first refusal, for when the workshops are rescheduled. We do not have a firm date of when this will be but please look out for future communications from us detailing when the workshops will be rescheduled.
If not already registered please do register on the waitlist for further details of when this course will now run.Thank you for your understanding & take care.
No matter what stage your business is it, it is crucial you have a clear plan in place to maximise success. It is all too easy as a business owner to be ingrained IN the day to day of your business without taking the time out to focus ON the business and where you want it to be in the future.
This interactive afternoon workshop in Worthing is part of a series of FREE sessions this March to encourage collaboration & growth within the creative & digital sectors in West Sussex and is delivered with the support of West Sussex County Council.
The session will give you the tools required to put together a simple but effective strategy for growth for your business. Over the course of 3 hours we will cover all of the core elements you should be covering to build a business plan that is both actionable but easily communicated to others. We will use a range of activities to cover the following areas:
Company definition
Vision
Mission
Values
Value proposition
Core Strategic Actions
Finance & KPIs
Service/Product offering
HR
Customer Insight & Marketing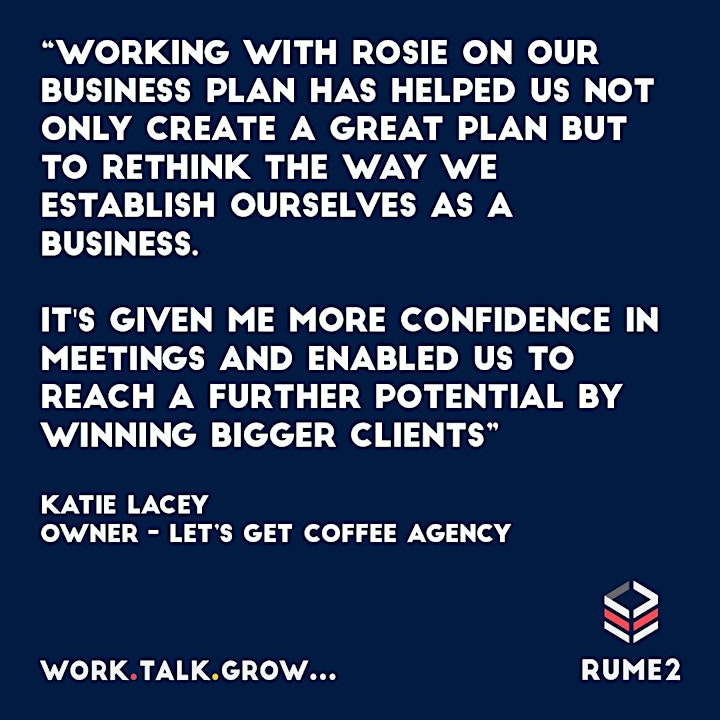 All attendees will leave the session with a workable business plan template and a clear idea of what areas they need to focus on within their business to enable growth.
The session is delivered by Rosie Freshwater who has 20+ years experience as a successful entrepreneur & business mentor within the Creative / Digital Sector as well as Co-founder of Rume2, a coworking space in Chichester with an extensive program of business support for members and the wider business community.
There are 2 other great FREE sessions in Worthing this March within this series of support. They are............
A Networking & Collaboration Event for Creative Businesses
https://www.eventbrite.com/e/collaborate-trust-win-registration-97842885705
A Full Day Workshop On How To Build a Digital Marketing Strategy
https://www.eventbrite.co.uk/e/free-digital-marketing-strategy-course-in-worthing-full-day-tickets-96460882095
Why not sign up for all 3 to give your business a real boost in 2020.