Business Success Matters Event, How To for Business Owners at Desklodge Hem...
Description
A monthly business event to support business owners in starting or growing their businesses. An opportunity to meet, network and learn valuable tips to easily implement into your business. World-class industry expert speakers share their knowledge and experience on key business topics.
90% of Start Up Businesses fail in the first three years, this event is designed specifically to give business owners access to the knowledge needed to avoid the mistakes which cause business owners to fail.
Arrival at 6.30pm
For informal networking over tea coffee & nibbles
7pm: Expert speakers deliver business workshops.
Each workshop is filled with practical advice, insight and tips on essential topics for business success.
The atmosphere is fun and the focus is on learning. Prizes will be given for random reasons throughout the night!

Tickets are free to attend for the first time, come join us, discover the value for yourself!
There is plenty of time for networking, chatting, getting to know and catching up with other business owners, before and after the speakers and during the break.
Speakers finish at 9pm, we'll carry on the chatter with informal networking until 9.45pm.
You can even have one to one networking inside a GIANT Box Brownie! This funky feature at Desklodge is a hat tip to the history and heritage that Kodak have in the Hemel Hempstead area.



Speaker: Aarti Paarmar of AP Brand Communications
A brand is much more than a logo, it's your business personality, it's what gives you the competitive advantage over other businesses potential clients are considering.

People will be drawn towards a business brand which matches their values, in this mini practical workshop Aarti will share essential branding tips and guide us through a practical exercise to better understand our own brands, improving our marketing.

Aarti's down to earth style of communication is easy to listen to, she'll be sharing her experience of working with many businesses to help create and recreate their brands.
She genuinely enjoys what she does, and particularly the impact her work has on business owners, giving them confidence and pride in their own business. Confidence is vital to be able to sell our own businesses, and this is why a powerful brand is so important for business success.
If you're thinking of re-branding, or considering creating a new brand for your business for the first time, this is a must attend workshop! It will get you thinking about your business brand in ways you didn't think were possible!

About Aarti Parmar:
Aarti is a local Graphic Designer and Branding Specialist with many years of experience helping businesses get their brand and visual representation on target, supporting their marketing activities and helping businesses get the results they strive to achieve.
Aarti's approach to graphic design isn't just about making something look pretty, it's about conveying purpose, design with purpose is more likely to emotionally connect with your potential customers, and provides the foundation for successful marketing.
Having run a creative agency in Malaysia for 10 years (after leaving thinking she would only be gone 6 months!), Aarti has returned 6 years ago and provides local businesses with her much sought after skills. Running a creative agency gave Aarti access to valuable experience working with bluechip clients, publicly listed companies, start ups and SMEs. On her return she worked with her family business in Harpenden re-branding it which achieved increased footfall, brand awareness and ultimately resulted in the business being bought out by a larger competitor, because they could see the value of the business which had been built with support of Aarti's branding.
Aart sits on the board of local enterprise agency STANTA, and she is responsible for their present branding, it only took them 29 years to replace the original design!
Aarti's skills and expertise has been recognised through her being selected as a finalist for the Best Business Women Awards 2016 for Best Business Services.
Julie Holmes- Whole Company Selling, Sales & Marketing Expert.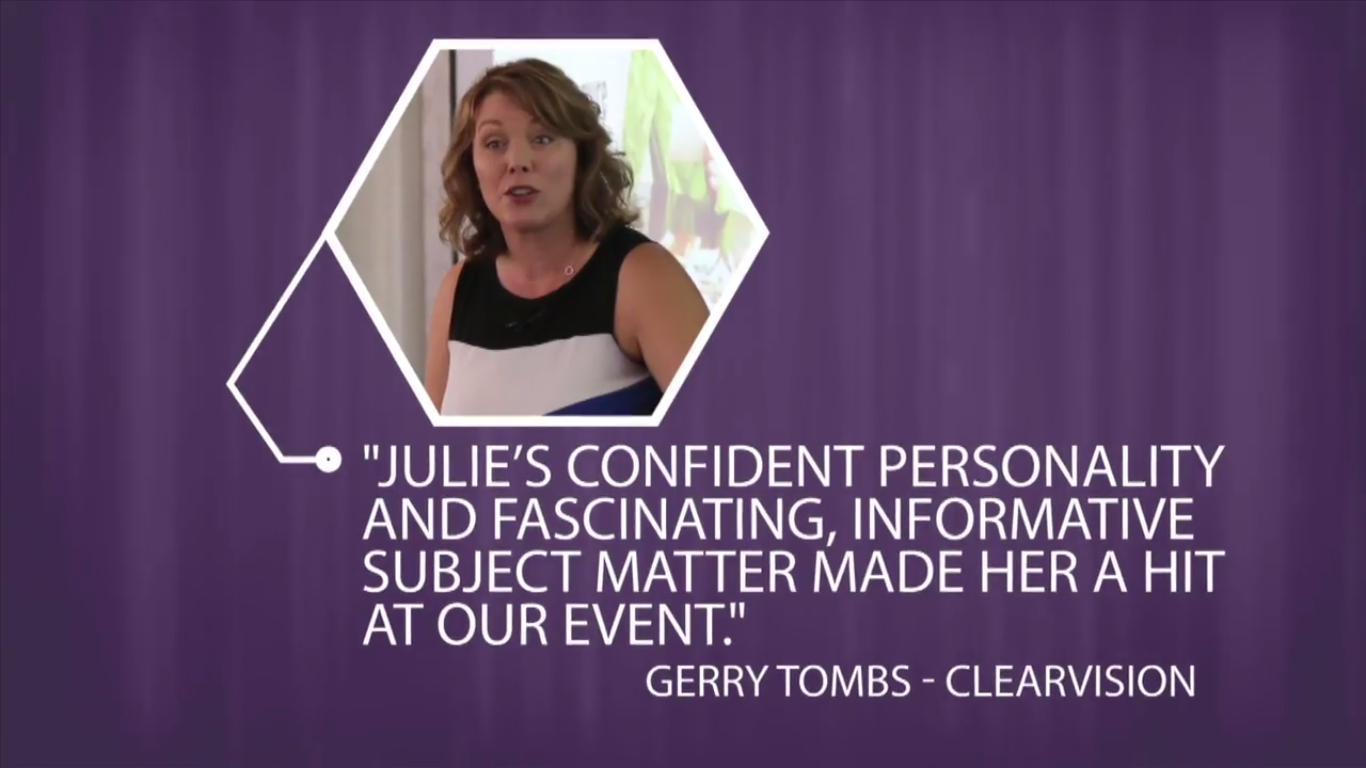 "I was the best 'worst salesperson' ever. I hated asking for the sale. So I avoided this dreaded task by making sure I knew what the prospect needed better than they did and I articulated the value so clearly they couldn't resist."
Julie Holmes has a masters in communication, and she is a master at communicating powerful marketing concepts helping businesses reduce costs and increase sales.
Julie has done a lot more than read a few books on sales and marketing.
She started her corporate life in the 1990s as a software consultant - implementing ERP systems like JD Edwards, Oracle and Lawson at SMB and enterprise companies in the US and Europe.
Over the last 20 years she has built a track record in the B2B technology industry where she's been a quota-carrying sales rep, product manager and a Director of Marketing working at host of companies including Oracle and a tech startup.
What is Differentiation, and how can it help your business?
Julie will clearly explain what differentiation is, and how it can benefit your business, make your marketing more effective and bring you more customers who are looking for exactly what you're selling.
She'll be talking with us about how you can differentiate your business, even in a crowded market place. With handy examples so that you can create marketing copy immediately to implement into all elements of your marketing.
Filming:
Our speakers will be filmed during the event, if you do not wish to be on camera, please let us know and we will seat you accordingly. By booking your ticket, you agree to be filmed and photographed.
For those who wish to be filmed, you are also welcome to be interviewed and filmed during the breaks, which we will share on social media to help promote your business. Please let us know if you'd like to be interviewed.