Description

Have you wondered how to do more with less - to automate business processes, to impress your customers, empower employees, and create revenue? Then this #BusinessTalk is for you! It will help explain how companies globally are seizing the potential of becoming an 'Intelligent Enterprise.'
Run in conjunction with our SAP Next-Gen Innovation Lab partners, SAP UKI, Capgemini & UKISUG, this event will focus on showing companies and individuals how digital transformation is changing the nature of business.
Visitors will get an initial look at how business and technology can be effectively synthesised to create 'The Intelligent Enterprise' during networking sessions over refreshments that will take place between 5pm and 6pm - before the talks - and again afterwards from 20.15.
SAP, Capgemini, UKISUG, Celonis and the MSc Digital Business Management Course Team will have interactive displays available to peruse in TEAL Studio One (RB2.08/2.09).
The presentations and demos will take place in Richmond Lecture Theatre 2 from 6pm.

Professor Mark Xu will introduce the speakers, and welcome everyone to the Faculty of Business & Law at the University of Portsmouth.
Timo Elliott will introduce the concept of the 'Intelligent Enterprise,' where the digital economy empowers the customer experience and the workforce of the future, uses data resources in real time and employs the 'Internet of Things' to serve customers better.
Umar Khan will demonstrate how the 'Intelligent Enterprise' benefits from the integrated use of technology behind the scenes.
Neil Ashworth will also explore 'Blockchain,' and how it can validate identity and ownership in a variety of industries.
Jessica Dowdall will speak about how Capgemini helps businesses stay ahead of the curve by exploring the 'art of the possible with an intelligent enterprise' through human centered design techniques.

Craig Dale will speak about the significant benefits available to SAP end users who join the UKI SAP Users Group (https://www.sapusers.org/).
David Starkey will conclude the event, and say a few words about the MSc Digital Business Management course (or DBM Programme) that can provide partner companies with postgraduates able to help them to create their own digital transformation plans.
PROGRAMME
17:00 onwards: Arrival & Registration, (Richmond Atrium).

A) Pre-Talk Networking & Displays in TEAL Studio One, Floor 2
17.05 Networking over Refreshments
An opportunity to engage with partner displays and delegates
17.55 Move to Lecture Theatre, (Richmond Ground Floor).

B) Presentations in RB LT2
18.00 'Welcome': Prof. Mark Xu, Head of OSM Subject Group, UoP.

18:05 'Digital Transformation, Intelligent Enterprise': Timo Elliott, SAP.

18:45 'Demonstrating the Intelligent Enterprise': Umar Khan, SAP.

19:05 'Blockchain & Intelligent Authentication': Neil Ashworth, SAP.

19.45 'Art of the Possible': Jessica Dowdall, Capgemini.
20:05 'The UKI SAP User Group': Craig Dale, CEO at UKISUG.
20.15 Networking.

20.35 Final Remarks: David Starkey, MSc DBM Programme Leader.

20.40 Close.
EVENT THEMES
#digitaleconomy
#intelligententerprise
#digitaltransformation
#sapleonardo
#digitalbusinessmanagement
#sapnext-gen
#theartofthepossible
#humancentreddesign
#sapusergroup
ABOUT OUR SPEAKERS
Professor Mark Xu - Head of Operations & Systems Management:
https://www.linkedin.com/in/mark-xu-395b9615/
Timo Elliott - VP, Global Innovation Evangelist, SAP:
https://www.linkedin.com/in/timoelliott/?locale=de_DE%20
Umar Khan - Senior Technical Architect, SAP:
https://www.linkedin.com/in/umar-khan-3a680641/
Neil Ashworth - Enterprise Architect, SAP:
https://www.linkedin.com/in/neilashworth/
Jessica Dowdall - SAP Centre of Excellence Innovation Lead UK:
https://www.linkedin.com/in/jessica-dowdall/?originalSubdomain=uk
Craig Dale - CEO, UKI SAP User Group (UKISUG):
https://www.linkedin.com/in/craig-dale-7311524/
David Starkey - SAP Next-Gen Innovation Lab Portsmouth:
https://www.linkedin.com/in/david-starkey-7281383/
ABOUT SAP NEXT-GEN INNOVATION LAB PORTSMOUTH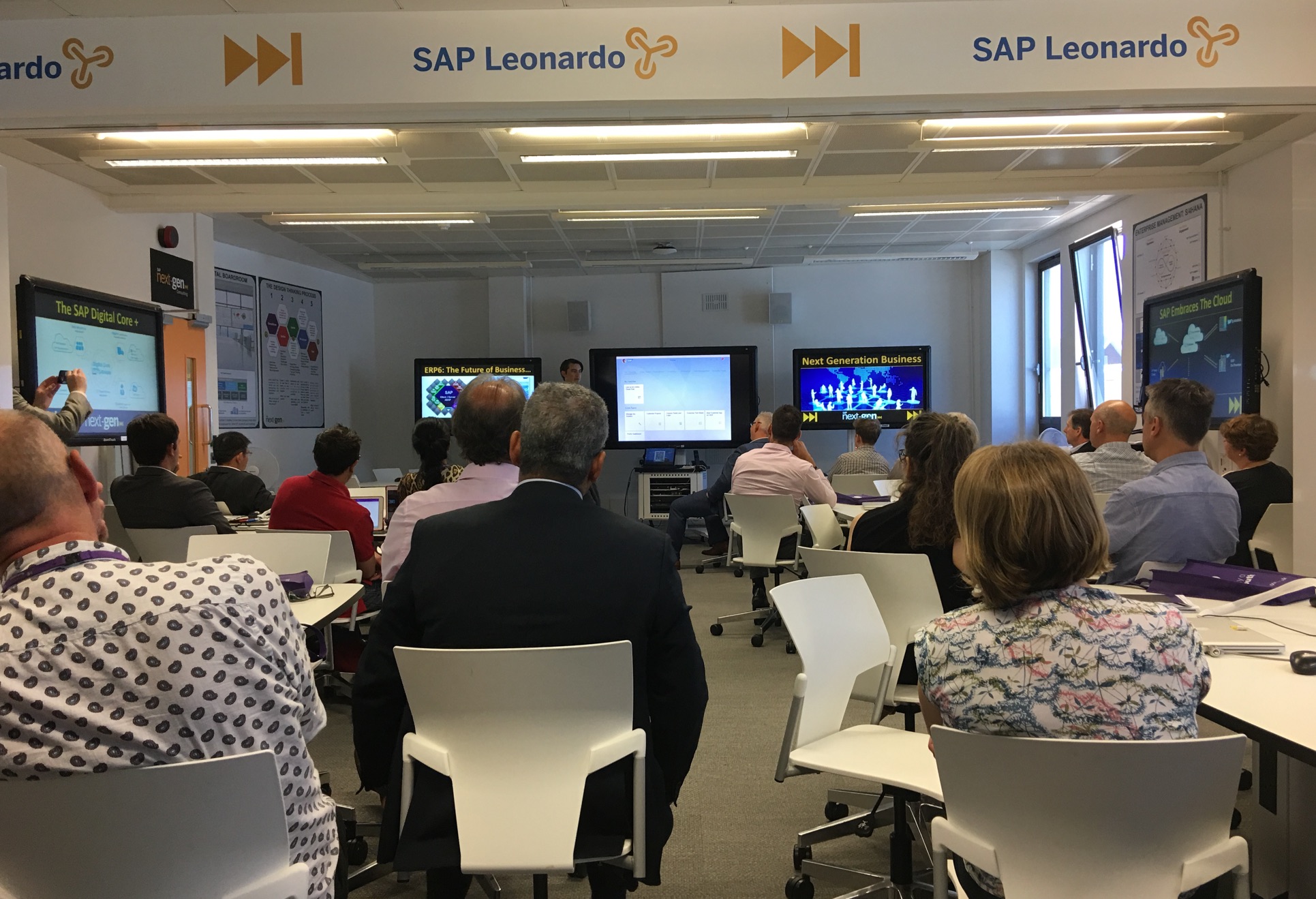 The SAP Next-Gen Innovation Lab Portsmouth includes 'TEAL Studio One' and a range of computer laboratories that together are used used to facilitate engagement between academics and local companies, and to provide students with valuable skills in the use of SAP software and technologies. It is also a vehicle for the provision of short courses to business. The facilities lend themselves to design thinking sessions, business consulting, and interactive group working. An adjoining suite of similar rooms that are digitally linked to them, can be found in the new Future Technology Centre or FTC. This building contains advanced manufacturing technology, two floor of interactive learning spaces that are fully digitally enabled, and meeting rooms. A new website for the Next-Gen Lab will be launched in the summer. The current site can be found at:
http://www2.port.ac.uk/portsmouth-business-school/sap-next-gen-lab-portsmouth/
The University of Portsmouth is the location for one of five SAP Next-Gen Innovation Labs in the UK.

Portsmouth is a member of the SAP Lighthouse Network, and a SAP Next-Gen Chapter for SAP Leonardo.
This event is run internally by the Business Services Research Office (BSRO) in the Faculty of Business & Law.
Visitors can contact The BSRO Team during or after the event via the email address bsro@port.ac.uk to discuss anything they have seen during the evening where they might want more information.
#BTDE