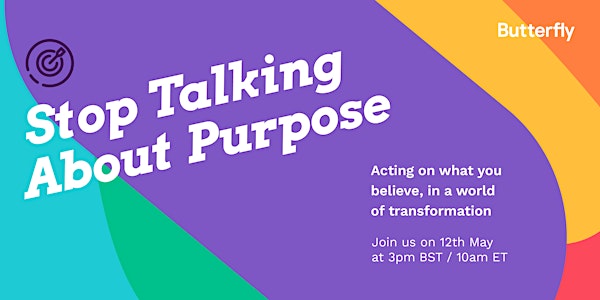 Butterfly Masterclass - Stop talking about Purpose
Stop talking about Purpose - Acting on what you believe, in a world of transformation
About this event
Our step-by-step masterclass on the 12th of May will invite you to retire the term "brand purpose", take stock of the good, bad & ugly of your business, and jump start your thinking on how to act on what you believe at the speed of today.
This season, our series of masterclasses focus on how you can drive Sustainable Growth in FY22 – growth that is both good to the planet and commercially rewarding; it's the business of aligning profit, purpose and planet.
In our first Masterclass, we shared our Business Growth framework that is anchored on broadening the perspective of the business you're in from what your business does to open more growth opportunities to take you beyond your current competitive set and capabilities. Netflix becomes an entertainment business, not a streaming service; Mastercard competes with cash, not just cards.
In our second interactive Masterclass session we'll look at the other side of our Business Growth framework and dive into the state of brand "purpose"; why we're using the term less and less, and how to form a holistically good brand tapping into societal shifts and grassroots emergence to drive movement and momentum.
We will be joined on our virtual sofa with two brand re-envisioning impact & brand purpose to do holistic good and have some fun along the way:
Alice Moore, Global Purpose-led Brand Director, Reckitt
Christina Habib, Beauty & Wellbeing Chief Insights Officer, Unilever
Theodora De Souza, Director of Lifestyle Category Brand Hospitality & Development, Hilton
We will share different ways to help you to go beyond purpose-washing and to do something real and impactful. Some of the main talking points include: 
The state of today…what does brand purpose even mean anymore?
How to take stock of your businesses…where you've done good and where you've gone wrong
Identifying your unique societal role…amidst a sea of sameness
Tapping into emerging movements to take meaningful action
Join us on the 12th of May at 3 pm BST / 10 am EST.