Sales Have Ended
Registrations are closed
Sorry you missed this event. You are more than welcome to join us at a future networking session, first Wednesday of every month. Check out our event listings and register your place now!
Event Information
Location
The Last Bar & Restaurant
70-76 Saint Georges Street
Norwich
NR3 1AB
United Kingdom
Sales Have Ended
Registrations are closed
Sorry you missed this event. You are more than welcome to join us at a future networking session, first Wednesday of every month. Check out our event listings and register your place now!
FREE face to face networking event for the local business community, delivered by Buy Local Norfolk!
About this event
Buy Local Norfolk (BLN) Networking - The Last
If you're looking for Networking opportunities in Norfolk, BLN is a very welcoming community. Members, guests and anyone else with an interest in Buy Local are all welcome...what's more; it's completely FREE!
For this event, we will be hosted by The Last Wine Bar & Restaurant
Now in its 30th year, The Last Wine Bar & Restaurant is a real Norwich institution. Housed in a former Victorian shoe factory (hence the name - there is a collection of shoe lasts)
To book your place, please purchase your ticket here on Eventbrite prior to the event to help us confirm numbers and easily sign you in on arrival.
Please note we can only have a maximum of 30 people at this venue so booking is essential to confirm your place!
Format
6pm - Networking
6.30pm - Chairman's report on current and upcoming events and opportunities.
7pm - Individual introductions to your businesses
7:15pm- Spotlight Member - Sarah Young of The Digbys Art
7.30pm - More networking - Stay until you are all talked out!
Location
Tillyard House, 70-76, St Georges Street, Norwich, NR3 1AB
To aid with directions please see the map attached
Parking
There are several car parks within easy walking distance, but the Monastery Court car park, Elm Hill, NR3 1HN is the cheapest.
Refreshments
We are kindly being hosted for free, and we do not charge attendees to take part. We do however ask that you purchase a drink from the bar, as a courtesy to our host. They will also be serving food for those who want to order, you can view their menu on their website: www.lastwinebar.co.uk
Images & Photography
BLN from time to time may take photographs or film footage of events and exhibitions taking place and we reserve the right to use such images or film footage for marketing and publicity purposes, which may include printed, online or social media content.
If you have any objection to photographs or footage being taken, please email office@buylocalnorfolk.org.uk in good time in advance of the event.
How can networking help your business?
Networking is a great opportunity to meet potential customers, suppliers and collaborators. Building those connections can help your business grow exponentially. Most people like to do business with people, so if you personally are visible, likeable and helpful your business is immediately more appealing.
But it's not all about making sales. Having a network of other professionals you can call on can make a huge difference to your business. Most business owners will come across similar problems throughout their careers, so they may be able to share some sage words of wisdom with you.
And don't forget, you're not just presenting yourself to the people in the room. They will all know plenty of other people who could be your customers if you create the right impression and continue to build relationships on and offline.
Our Top Online networking tips
Bring business cards! If someone wants to connect make sure you have your card at the ready.
Prepare a short 30 second to 1 minute introduction to your business. You will have the opportunity to tell the group who you are and what you do. If you've already thought about it, there's less pressure on the day
Think about what sort of business it would be helpful for you to connect with and see who may be able to help you
Listen to what other people have to say; don't just talk about yourself!
Tell, don't sell - explain how your product or service helps solve a problem, rather than what it is you are selling.
Smile!
Code of Conduct - Online and Offline Event Participation
Buy Local Norfolk (BLN) is dedicated to providing a safe and professional environment, (meetings, events, activities, both online and offline) for everyone. BLN does not tolerate harassment in any form and BLN participants violating these rules may be sanctioned or expelled from BLN networking and events, including online communities and events.
Expected Behaviour
• All members are expected to be respectful, kind, and professional
• They will exercise consideration and be mindful of others
BLN networking is intended to be a business development and social event, please conduct yourself and your choice of language appropriately. At our "round the room" introductions, please use the opportunity to speak about yourself and your business, as well as outlining what you are looking for from the networking event.
Please also maintain these standards of behaviour in online communications in our online forums, remembering how words may be misinterpreted by the community.
Unacceptable Behaviour
Intimidating, harassing, discriminatory, abusive, derogatory, or demeaning speech or actions by any participant, at any BLN event, online or offline, as well as on our social media platforms will not be tolerated.
Consequences of Unacceptable Behaviour
If a participant engages in unacceptable behaviour, BLN directors or staff members may initiate any reasonable action they deem appropriate, including removal from BLN online forums or events. Membership may also be revoked with no refund of monies paid.
Contact Information
If you are being harassed, notice that someone else is being harassed, or have any other concerns involving someone's welfare, please notify a member of the BLN team or email info@buylocalnorfolk.org.uk. BLN will be available to provide assistance, so that those experiencing unacceptable behaviour will feel safe at our events.
If you would like a copy of the full unabridged code of conduct, please contact info@buylocalnorfolk.co.uk.
BLN values your participation.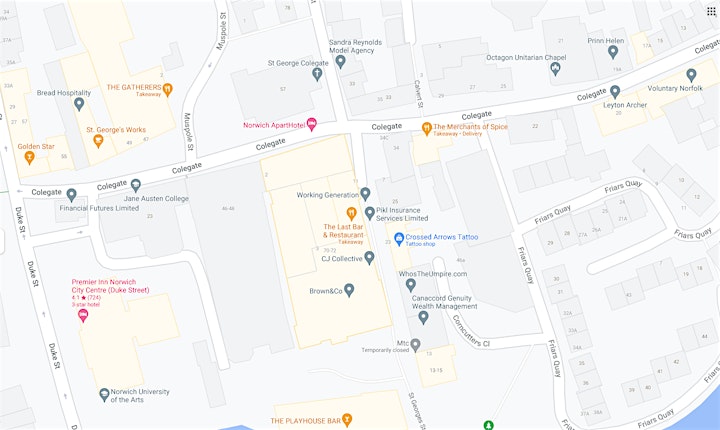 Date and time
Location
The Last Bar & Restaurant
70-76 Saint Georges Street
Norwich
NR3 1AB
United Kingdom