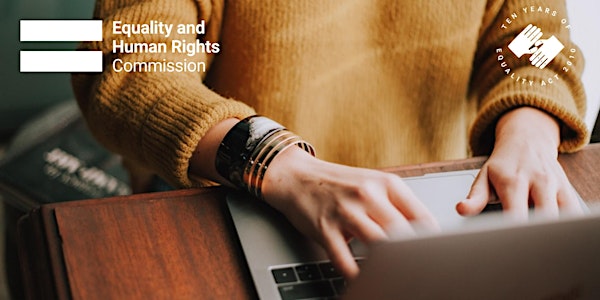 Buying Back Better - embedding equality considerations into procurement
How can you embed the Public Sector Equality Duty and use your purchasing power to promote diversity?
About this event
Join representatives from the Equality and Human Rights Commission, Harlow Council, HS2, Manchester City Council and the Scottish Government for an informative webinar about embedding equality considerations in the procurement process.
All public bodies in England are subject to the Public Sector Equality Duty (PSED). The PSED requires public bodies and those who deliver services for them to consider how their policies or decisions affect people who are protected under the Equality Act. As well as safe-guarding against discrimination, the PSED aims to help you to address inequalities, promote inclusion and create a fairer society.
The pandemic has exposed and in some cases widened inequalities. Public sector bodies already work hard to promote equality, diversity and inclusion. This webinar will explore how this work can be extended to the wider supply chain, by embedding equality considerations into purchasing decisions. As we plan for the recovery and 'build back better', we explore how to promote equality whilst also getting value-for-money.
Experts from local government and infrastructure organisations will explain how they are considering equality and diversity through procurement, followed by a question-and-answer session.
Who should attend?
This webinar is aimed at colleagues working within the public sector in England.
It is particularly relevant for colleagues with strategic responsibility for adherence to Public Sector Equality Duty, for purchasing and procurement and/or equality & diversity experts. It may also be of interest to representatives from other public sector organisations as well as those from private and not-for-profit sector organisations who deliver services for public bodies.
Speakers:
Cath Denholm, Executive Director, Corporate Services & England, Equality and Human Rights Commission
Chris Oswald, Policy Manager – Equality & Investment, Regional Economic Development, Scottish Government
Paul Murphy, Group Manager - Integrated Commissioning and Corporate Procurement, Manchester City Council
Osita Madu, Equality, Diversity and Inclusion Manager Supply Chain , HS2
Bev Thomas, Relationship and Commissioning Manager, Harlow Council
This webinar will be delivered online. Full joining instructions will be sent after registration. This event is part of the Equality and Human Rights Commission's England Network activity.
About our speakers
Cath Denholm joined the Equality and Human Rights Commission as Executive Director of Corporate Services and England in June 2020. Prior to that she worked for 20 years in the NHS in primary care, health improvement strategy and, latterly, in the creation of Scotland's new national public health agency, Public Health Scotland. Cath's interests are public service leadership, strategic change and achieving value for public money, firmly underpinned by fairness, equality and human rights. She was part of the Scottish National Action Plan for Human Rights (SNAP) collaboration since its inception in 2010 until 2020. She is also Deputy Chair of NatureScot, Vice Chair of Impact Arts, Honorary Member of the UK Faculty of Public Health, Fellow of the Royal Society of Arts and Member of the Institute of Directors
Chris Oswald is currently on secondment from the EHRC to the Scottish Government where he leads on promoting equality in the City Deal programme, ensuring that women, disabled people, ethnic minorities and people from Scotland's most deprived communities benefit from the 70, 000 jobs that will be created. Prior to the secondment Chris was Head of Policy and Comms in the EHRC's Scotland office since the Commission was established. Before this Chris worked in similar roles in both the Disability Rights Commission and Commission for Racial Equality, always in Scotland. Chris's main qualifications are in community development and he has worked in housing, social work and health with a particular emphasis on advocacy and supporting victims of hate crimes.
Paul Murphy is Group Manager for Integrated Commissioning and Corporate Procurement at Manchester City Council.
Osita Madu is a CIPD qualified Human Resource professional with 18 years' experience spent specialising in Employee Relations, Recruitment, Training, Mediation and Diversity & Inclusion. He has made the most impact by developing, influencing, implementing and managing diversity across various sectors from local authorities, housing, media, banking and most recently infrastructure programme at High Speed Two. Previously Head of EDI at HS2, he joined the organisation in June 2016 where he has won a number of awards and gained recognition for his innovative approach to inclusive procurement and tendering for all major suppliers to HS2.
Bev Thomas has worked in Local Government since 1986, mainly in the East Midlands. She joined Harlow Council in 2009 after 8 years at the London Borough of Havering in a number of Projects and Contract Manager positions. Her responsibilities include contract managing the Council's Joint Venture Co (JVCo) now a Local Authority Trading Company (LATC); Strategic Commissioning & Procurement and Policy and Performance functions.