Description
Bristol VR Lab's second "Afternoon Seminars" event takes place between 1-2:30pm on 28th February, 2018.
The theme for the session is "Establishing a VR Storytelling Language". BVRL invites local companies working in the surrounding fields, along with VR/360° professionals in the area. The session will be comprised of two talks with a little time for networking after the event.
Speakers:
Lisa Golden, VR Journalist, The Guardian
Lisa is a VR Journalist at The Guardian and Producer/Assistant Producer with experience in research, development and post-production at Al Jazeera. Lisa is well-versed in development, cultural and social issues, with additional strength in southern Africa and the MENA region.
Language of VR - Creating an "immersive experience"
A lot has been made of the "immersive" quality of VR, but what do content creators mean when they describe their pieces as "immersive"? In my talk I'll argue that most of the elements that would encourage true immersion are out of the creators control. The hardware, the space and the physical experience a new user has contributes disproportionately to feelings of immersion than the piece of content itself. What creators do control is the fundamentals of story-telling, which have been taking people into different worlds since we sat around fires in caves. A well-told and engaging story can even atone poor quality video, terrible sound and an uncomfortable seat. I'd like to argue for creators to focus on "suspension of belief" rather than "immersion".
----
Catherine Allen, VR curator and producer, Limina Immersive
Catherine is a BAFTA-winning, immersive media specialist and the founder of Limina Immersive. She has been responsible for a range of high profile digital entertainment products and has worked with major brands including Disney, Siemens and the BBC. Catherine's expertise spans across the fields of VR, AR and industry inclusivity & diversity.
Is there is more to non-gaming VR than storytelling?
In this provocative talk, Catherine will demonstrate that whilst storytelling in VR can be awesome, there is a lot more to be explored. Using audience data from Limina's hugely popular pop-up VR theatres, she will argue that telling a 'great story' is not the be all and end all of this new medium. As a VR creator, it can be liberating to realise that there is a lot more to be discovered.
----
Dr David Green, Researcher, UWE
David is a multi-skilled researcher and creative practitioner, with expertise in documentary-making, immersive media, creative coding, rapid prototyping/hardware hacking, human-computer interaction and co-design / co-creation.
The Language of VR: A Motley Geneaology
The language of VR borrows liberally from games, film, design, theatre (and beyond), and many of the words we are turning-to to describe our VR experiences ("immersion", "presence", "empathy", etc) come from psychology, sociology, philosophy, and so on... From this melting pot, how can we be sure that one person's "first person" is the same as another person's "first person"? Do we agree on what words like "audience" mean in relation to VR? What exactly is the "ultimate empathy machine?" Drawing on my own experiences in participatory documentary-making, interaction design and interdisciplinary research, I will reflect on how VR's mixed-up genealogy has resulted in various instances of "polysemy" (words having multiple meanings) in the language of VR (and why this might not – necessarily – be such a bad thing).
----
If you would like to book a Bristol VR Lab tour after the event please use Calendly to do so.
Bristol VR Lab is located on the first floor of the Leadworks building on Anchor Square. The main entrance is via Bristol Aquarium and there is a push button doorbell on the left as you arrive.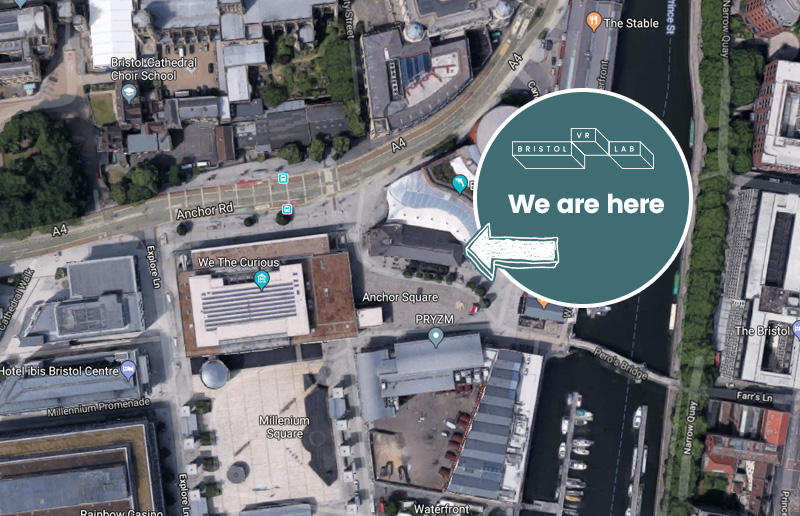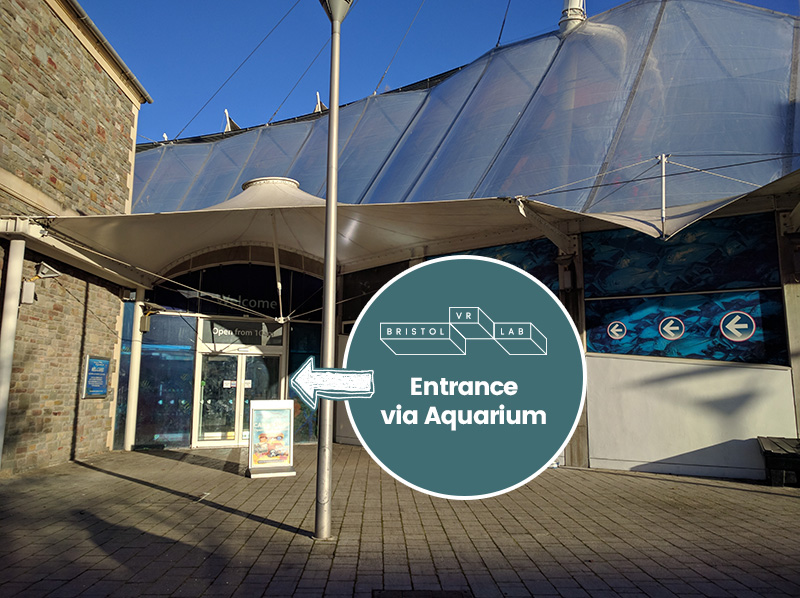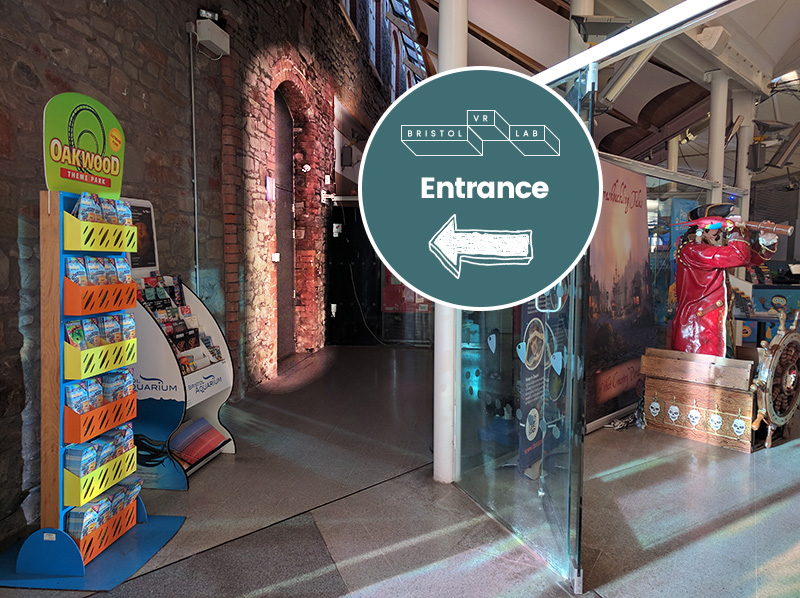 On entry to the lab there is a flight of stairs or a lift that may require support to use. Please let us know via email or Eventbrite what access requirements you may have and we will be happy to assist you.