Join our Build Your Own Data Logger live Office Hours for Module 2 on December 8th at 10 AM GMT!
About this event
The second module of our Build Your Own Data Logger virtual course is now live. Access it here.
Once you've completed your first module, join us for our live Office Hours event on December 8th at 10 AM GMT/9 PM AEDT.
Our second module from Akiba and Jacinta will cover:
Setting up the Arduino IDE: Installing the IDE, board description files and the drivers we need
Arduino program (sketch) structure and the subset of C++ we'll be using
WildLogger board pins and interfaces
Understanding serial communication and using the USB serial dongle
Writing our first programs: The power of blinking an LED.
Writing our first programs: Hello World. Using the serial console, and sending text from the board to the PC.
This live Office Hours event is your opportunity to chat with other participants and ask any questions that have come up as you've worked your way through the first module.
About the Build Your Own Data Logger Virtual Course
Through our learn-at-your-own-pace videos, Office Hour events, and interactive forum, Akiba and Jacinta will cover everything a beginner to Arduino needs to get started. By the end of our eight modules, you'll have the practical skills and knowledge base you need to deploy your creation for real.
The series assumes no hardware experience. You'll leave this course with a thorough step-by-step overview of everything you need to know, including common terminology, components, the hardware design stack, setting up the Arduino environment, programming and optimising your application, choosing and modifying enclosures, piloting, testing, deploying and troubleshooting. 
Register now to join our Office Hours event on December 8th, and watch for more updates on our bi-weekly live Office Hours throughout the course.
Learn more about the series here: https://www.wildlabs.net/byo-datalogger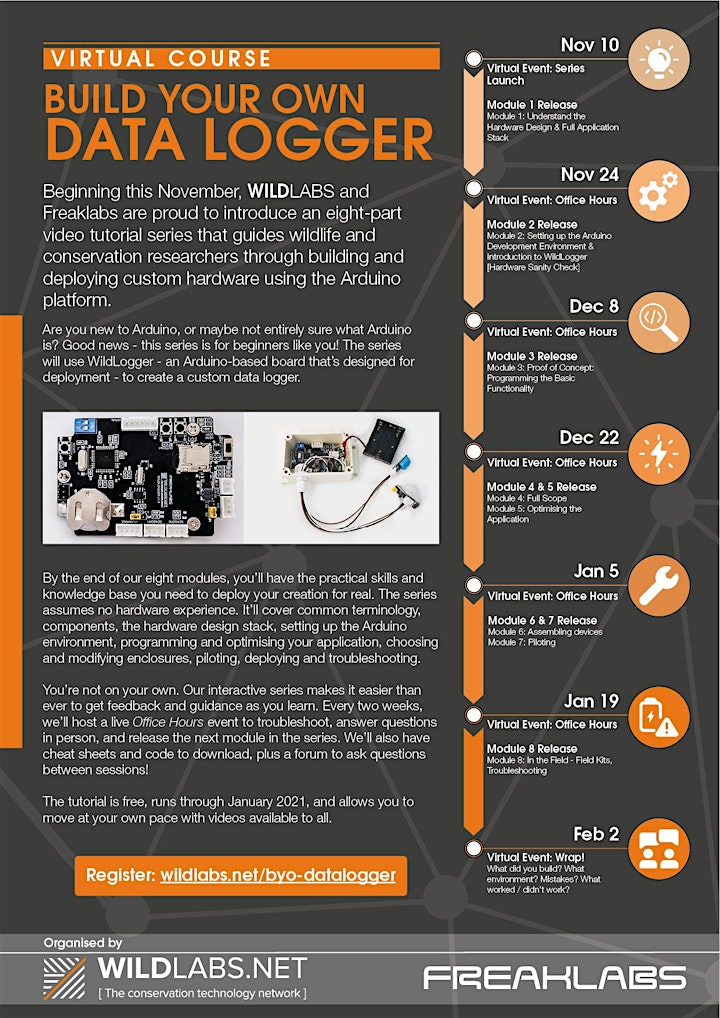 Organiser of BYO Data Logger Office Hours: Module 2
WILDLABS is the first global, open online community dedicated to conservation technology. How are you using #Tech4Wildlife?