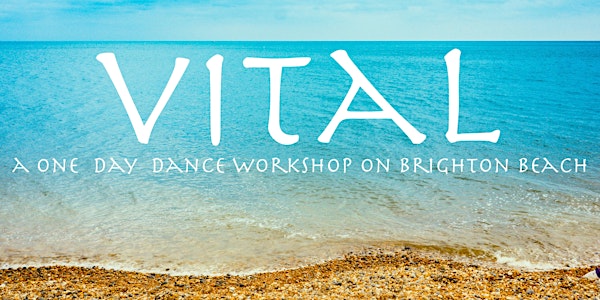 C-19 Cancelled : VITAL- a one day workshop- dancing out on Brighton Beach.
Location
Yellowave Beach Sports Venue
299 Madeira Drive
Brighton
BN2 1EN
United Kingdom
Refund policy
Refunds up to 30 days before event
A day of dancing inside/outside on Brighton Beach - tending to our own aliveness; exploring, embodying, expressing and enjoying ourselves...
About this event
We need our vitality. Our aliveness. Our get up and go.
In this afternoon workshop we will tending to our own aliveness by dancing inside/outside of the stunning Yellowave studio right on Brighton Beach using "silent disco" headsets.
"It is not the end of the physical body that should worry us. Rather, our concern must be to live while we're alive - to release our inner selves from the spiritual death that comes with living behind a facade designed to conform to external definitions of who and what we are." ― Elisabeth Kübler-Ross
5 Rhythms dance is the bases of our enquiry- in this dance practice our movement come from own internal impulses. There are no steps to learn and nothing that we need to do right. We are gently challenged to move in new ways-to dive deeper into the experience of being alive, to grow our range and reach of movement and to try on embodying new ways of being. Vital. Vivid. Visceral. Real.
"The world is full of magic things, patiently waiting for our senses to grow sharper."  - W.B.
Why does movement matter? To put simply it's a practice. When our bodies move our lives literally move, we're in better shape, we cultivate choices and can make changes. we engage with our own energy, coming into contact with our own vital life force. Working with the body is an excellent short cut to tapping into the deeper feeling currents within us and to bring about change in our outer lives.
We will also work with eco-somatics- strengthening our connection with the natural world around us. Cultivating our feeling of being here, belonging, being a part of it all…
Be warmly welcomed.
Whom is this for? If you have a body you can dance!
We welcome all genders, races, faiths, nationalities and abilities. Mavericks and misfits are welcome!
These events are not suitable for those under 18-we work with diving deeply into our own internal world and so a depth of developmental maturity is required.
Super early bird rate (until the 20th Feb 2020).
Early bird (20th February to the 31st March 2020)
Regular price: £40/ £32 concessions
Full refund up to 30 days before.