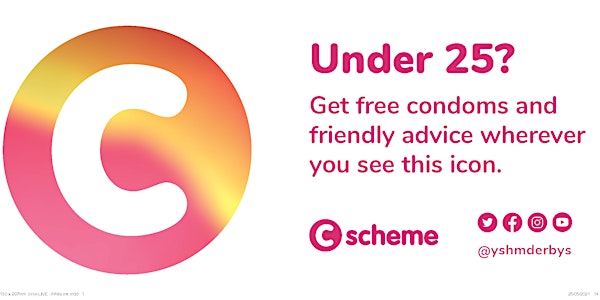 C-Scheme Registration Training on Wednesday 29th June 2022
Multi-agency C-Scheme Registration Training on Wednesday 29th June 2022
About this event
About the C-Scheme:
Derbyshire and Derby City C-Scheme provides condoms to young people via a coordinated, multiagency, quality-driven distribution network for young people aged 13 - 24 years old who:
• Are considered to be at risk of sexually transmitted infections (STIs) and/or unplanned pregnancies
• Require access to supplies of free condoms and confidential sexual health information
About the C-Scheme Registration training:
This half day training course is for anyone working with young people aged 13-24 years old who plan to distribute free condoms and lube within C-Scheme. The training will provide professionals with the skills and tools to confidently register young people and issue condoms to young people within their setting under the Derbyshire and Derby City C-Scheme. It will also enable professionals to better respond to sexual health issues in their work with young people.
The training will cover:
• How to register a young person onto the scheme
• Dispensing condoms
• The law and sex
• Fraser competence
• Condom demonstration and screening for sexually transmitted infections (STIs)
• Registration of your organisation onto the scheme
• Integrated Sexual Health Service free condom HUB account including joining, monitoring and order process
• YSHM services and signposting
Who is C-Scheme Registration training aimed at:
New organisations and staff working with 13 - 24 year olds in Derbyshire and/ or Derby City and are planning to or have set up a condom registration scheme and/or condom collection scheme e.g. Health care professionals, Sexual Health staff, youth workers, GP surgeries.
All organisation wishing to deliver the C-Scheme will be asked to identify a lead and complete an online registration. Upon completion welcome packs containing all the resources you need to start C-Scheme delivery will be allocated. (Please seek your manager's approval to deliver the scheme before applying).
This event is free for professionals working with 13-24 years olds in Derbyshire and Derby City to attend and will be held virtually via MS Teams
Please note: This is a online training event via MS Teams
Cancellations and updating registration information:
If your contact details change or if you want to amend your booking, please log into to Eventbrite, and make any necessary amendments.
Further information:
https://www.yoursexualhealthmatters.org.uk/professionals/free-condom-schemes
Any questions regarding the training please contact dchst.ishsfreecondoms@nhs.net