Event Information
Refund Policy
Contact the organiser to request a refund.
Eventbrite's fee is nonrefundable.
Empower yourself to hold Sacred Ceremonies with Cacao for self healing
About this Event
🌟 Who is this for? 🌟
Welcome! If you resonate with any of these statements, then I had you in mind when I created this course…
You are curious about or already love Cacao, and would like to learn from this ancient plant teacher!
You would like to learn and become confident to: create altars, open and close sacred space, hold space in for your own ceremonies and rituals
You would like to become clearer about what exactly you want to manifest in your life - to find more purpose and meaning on your path in life
You would like to become a powerful manifestor to create the life you want
You are curious about spirituality, or are ready to deepen your practice
You would like to have more spiritual connection
You want to feel more energised, passionate, creative, and alive
You see the value in being more heart centred, and are ready to connect more with your heart
You want techniques that you can integrate and use independently for a sustainable self-healing practice 
You are ready to take responsibility for your own healing
You want a self-initiation which can solidify your relationship with Cacao and your capacity to hold space for yourself
​If you are called to this, I truly hope you will join me and enrol yourself on this course!
🌟 About the Course 🌟
What this course offers is a complete and comprehensive set of resources to guide you to create your own powerful sacred Cacao Ceremony, along with a potent manifestation ritual you can use for anything your heart desires. Here is what is on offer:
- Live Zoom calls (which will be recorded to create the videos for the online course and to be sent to anyone who can't make the times of the scheduled calls)
- Lifetime access to the online course platform (videos + pdfs + audio) which will teach: 
All about Cacao - the sacred teacher and heart opener
Cacao recipe and making guide
Creating an altar and sacred space
Opening and closing sacred ceremonial space
Intention setting
Ceremony creation
Connecting to guidance from your Higher-Self
Perform a manifestation ritual
'Hold-space' for yourself
Transmute and ground energy
Centre yourself in the heart
Creative channelling
Integration
- Examples and resources to inspire your unique ceremonial expression
- Membership of the online community
- Feedback and support in creating your perfect ceremony
- Option to have 15 doses of my favourite Cacao posted to you
- Invitation to attend a live Cacao Ceremony with the intention of Self Love, on Sunday 14th Feb 2021 in Glastonbury: + £33
🌟 Aims of the Course 🌟
Attending Cacao Ceremonies and performing rituals under the guidance of a space-holder can be a transformational and sometime life-changing experience. This course will empower you with all the steps you need to safely perform these rites in the comfort of your own home (or favourite nature spot!). The aim of the course is that on completion you will: 
Be confident to create your own ceremonies for yourself
Cultivate a deeper relationship to spirit
Have tools to bring about self-healing
Receive your own higher guidance and set intentions from your own wisdom
Have the know-how to manifest your intentions powerfully and safely
Express your creativity in new ways
Access your deep inner wisdom
Open your heart more deeply 
Unlock your own space-holding ability
🌟 Course Schedule🌟
Zoom calls will be at these times, but will be recorded and available to those who cannot make the call at these times. However, if there is a waitlist, preference for spaces may be given to those who can attend these calls as it supports the creation of this community if most people can make it! I have intended to start the course on Winter Solstice and end on Valentines' Day.
21st December 7-9pm

Introductions, Cacao - Plant Teacher, Intentions, Space Clearing

27th December 7-9pm

Altar Creation, Opening and Closing Sacred Space, Holding Space

3rd January 7-9pm*

Cacao Ceremony, Manifestation, Healing, Creativity

31st January 7-9pm*
Energy, Intuition, Integration

14th February 3.33pm - 5.55pm* - optional extra to attend
Self Love Ceremony: Outdoor Ceremony in person in Glastonbury (subject to Corona Restrictions)
* Please allow at least half an hour before these calls to prepare your space, intentions, and for calls marked * you will also need to pre-prepare your cacao drink.
* Please also allow at least half an hour after these calls in case the call runs on slightly, and to do an integration practice after the call.
🌟 Investment 🌟
Course cost: £88
If you can't make any of the dates or can't afford this investment, I am offering a limited number of pre-enrolments to the online only version of this course for the incredibly low price of £33. (This doesn't include the online community or recordings of live calls - these will be sent out only to those paying for the live course).
Why are the costs so low? First, I am committed to supporting people in this planetary awakening and I want it to be accessible to all to have this information. Second, it is because the calls will be recorded and footage of Joy used to create the online only version of this course. Thirdly, I hope that by being one of the early supporters of the online course you might be moved by your experience of the course to offer a testimonial 😍
Optional extras:
Ceremonial Grade Cacao (15 doses) - £25 collection from Bristol

Parcelforce next day delivery to UK is £33 total
Royal Mail 3-5 day delivery to UK is £29 total
Email joy@crystal-heart.org with your order and address and I will send a PayPal link for payment, or a quote for international delivery
The 14th Feb Self Love Ceremony is £33 to attend in person. You will be invited privately.
🌟 About your Facilitator 🌟
Hi, I'm Joy! I had a 6 month initiation with Cacao in 2016 that drastically changed my life. I had a profound healing experience which led to a deep heart opening, and I made a sincere commitment to be in service to Love. I have been working as a Ceremonial space-holder, healer, and self-love teacher with the sacred medicine, Cacao since then. Part of my service now, is to offer what I can to support others in finding their own self-healing, inspiration, manifesting potential, and self-love. I love seeing others become empowered with the wisdom that they already possess, so that they can find their own way, their own path, and can become the most perfect expression of themselves, in harmony with others and with nature. This course aims to lift you up, to show you that you are already enough, and don't need to wait any longer to create your ceremony and perform rituals that will enhance your life, deepen your relationship to spirit, and free up the creative expression of your soul. It's based on what I have learnt myself about holding ceremony, and I know how well it works because I use it all the time in my own life, in meaningful and enriching ways. I pray it brings you everything you hope and more!
With love,
Joy
🌟 Got more questions? 🌟
Joy is offering the chance to connect and ask about the course, with a complementary and no obligation phone call.
Schedule your call with Joy here: https://calendly.com/crystalheart/consultation
🌟 Testimonials 🌟
"Beautiful, breakthrough, heart-filled cacao ceremony to ignite our intentions for the new year. Thank you Joy, for creating such a safe, sacred space to share and come together!" - Katherine
"Joy holds a safe, sacred and heart-opening space as I experienced attending two healing and manifestation Cacao ceremonies. They were extremely powerful as a pair and I experienced a significant, perspective-changing shift. I was able to let go of everything I came to and dug deeper than I had before to release even more than I knew I needed to. The group atmosphere is so supportive and the guided meditations were so special. I am so grateful I found Joy My intention was to help with anxiety and my daily anxiety has completely gone! I will definitely be coming back and couldn't recommend the ceremonies enough! Thank you, Joy 😀💖💗💓" - Amy
"Joy explains in detailed but easy to understand ways and the exercises were clear, engaging, well supported and allowed for deeper intimacy with self and the group. It was lovingly and sensitively supported and facilitated. Joy has a calm, gentle, clear contained yet lovingly open and sensitive manner. I found her engaging and inspiring, providing and allowing for a wonderful spiritually supported and loving container. The cacao was the most delicious I've had in ceremony. The ceremony was directed and held with deep, loving intention and gratitude." - Lisa
"There is something incredibly sacred and special about sharing a ritual or ceremony in a more tribal sense. Joy holds a beautiful, open and nurturing space that allows everyone to feel comfortable expressing what they came to, and has the wisdom/skills to draw out what may not have been expected. I felt a very clear shift straight after both the healing and the manifestation Ceremonies I attended and couldn't recommend enough! 😊❤️" - Tom
🌟 SAFETY NOTE 🌟 Drinking Cacao is not suitable for you if you are pregnant, have a heart condition, or are taking SSRI anti-depressants. Holding a Cacao Ceremony for yourself without support is not recommended for anyone with a history of psychosis or a current mental health concern. In this case, you are welcome to enjoy the course and learn the art of Ceremony minus the Cacao (you can substitute Cacao with your drink of choice). 
🌟 IMPORTANT NOTE 🌟 This course does not offer a certification or qualification to hold professional ceremonies for members of the general public. If you have aspirations to hold Cacao Ceremonies professionally this is the pre-requisite for my further training. I really believe that the depths that we can take others to in their healing is only as far as we have been able to go ourselves, and this self-ceremony practice is an essential preparation for holding space for others - the intention of this course is for you to gain this experience in the most safe, beautiful, deep, and transformative way. Further training is offered by invitation, and in intimate groups of fellow space holders this would include mentorship, personal sessions with me, and supervised practical sessions to empower you to hold public ceremonies professionally, safely, and confidently, cultivating the ceremony that your soul is calling for.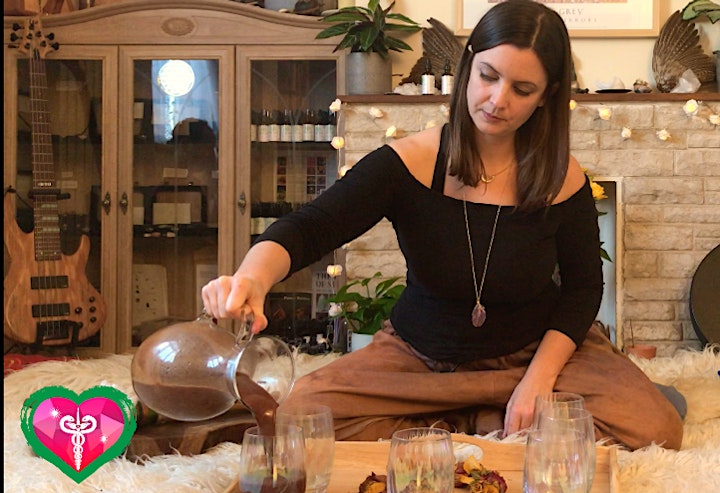 Date and Time
Location
Refund Policy
Contact the organiser to request a refund.
Eventbrite's fee is nonrefundable.