About this Event
These events come at a time of unprecedented challenge for our sector, as we deal with a severe and deepening recruitment crisis and prepare for the uncertainty of a post-Brexit workforce. These conferences will aim to discover how we, as a sector, can work together to overcome these challenges, raise participation and ensure a career in care and education is seen as an aspirational choice for all.
You will also have the chance to find out more about how T Levels will change the face of delivery and what impact they will have on you and your learners.
Back by popular demand, we are excited to announce Professor Robert Winston as this year's keynote speaker.
A key theme this year will be 'Nature vs Nurture', exploring whether individuals have a predisposition to gravitate and excel in care roles, and what we can do to help raise representation in our sector.
The interactive events will provide you with the opportunity to find out about the latest policy, funding and portfolio updates, and network with other like-minded professionals. You will also have the option of attending break-out sessions on the delivery of Health and Social Care and Childcare qualifications and asking the experts any questions you may have.
If you have any questions, are unable to pay by card, or would like to discuss the conferences with a member of our team please get in touch via conferences@cache.org.uk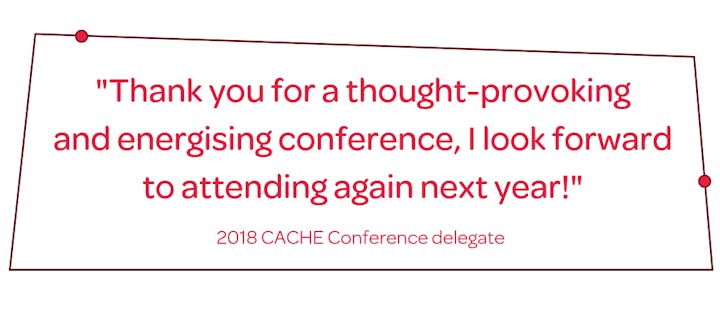 Agenda
Registration, refreshments and networking - delegates to arrive between 9am and 9.30am
Welcome and opening speech
The future of learning – policy and funding update
Keynote session on caring for the vulnerable - Andrew Whitehouse
Keynote session on nature vs nurture - Professor Robert Winston
Planning for success – portfolio update
Networking with optional breakout sessions focused on Health and Social Care and Childcare
Ask the experts
Summary and closing remarks – the conference will finish at approximately 4pm
Please note this agenda is subject to change. Lunch and refreshments will be provided throughout the day, please advise of any dietary requirements when booking.