Event Information
Refund Policy
Refunds up to 7 days before event
CALM YOUR ANXIETY Global Virtual Retreat (4 x Saturdays) Experiential Online Mental Gym. Practice Self-care techniques.
About this Event
Join our GLOBAL RETREAT on how to CALM YOUR ANXIETY. Here, you will learn & practice a set of SELF- CARE TECHNIQUES that's PRACTICAL and easy-to-follow to help you to stay CALM amongst the fear & uncertainties and RELEASE stress & anxieties. These techniques will help you REGULATE your emotions & feelings, allow you to HEAL & move forward in your life FEELING AMAZING. The retreat will cover 1-2 techniques over 4 weeks & you get to practice in-depth every week like going to a MENTAL GYM. Every 4 weeks, you get to practice another set of INTERESTING & EMPOWERING techniques.
Start living a HEALTHY, HAPPY AND FULFILLING LIFE & become the best version of yourself.
Attendees also get a choice to join our private fb support group where you can share experiences & ideas & support each other.
WHEN: Saturdays, 13th Mar , 20th Mar, 27th Mar, 3rd Apr for 1.5 hour via ZOOM. The session begins at 12:00 noon GMT time
Fees for the 4weeks retreat: £44 for UK
Alternative, if you are attending from another country then message/email/text below with your Full name, country, contact details & email address & I will send you the appropriate payment link for your currency. You will then receive a confirmation of booking with the zoom link via email:
https://www.facebook.com/aplewsonlinetherapy/
Book your place now: text: 07967 881372
Fb: email: annplewshypnotherapy@gmail.com
Who can benefit from this workshop?
Those who feel isolated & need support to cope with lockdown
Individuals struggling to cope with day to day things.
Parents & children looking to manage or regulate their stress & anxiety.
Students & Teachers that are too anxious to go back to school
Individuals that are tired of worrying , feeling dread & want to relax.
Those that want to improve their confidence.
Those who would like to attend a Mental Gym each week.
What are the benefits of this workshop?
In this workshop I will show you PRACTICAL, EASY TO FOLLOW SELF-CARE TECHNIQUES that you can apply at home, at work or even at school to help you manage your stress & anxiety, regulate your emotions & feelings.
Emotional Mental Support
Peace of mind
Help to get a restful sleep
Support during lockdown & uncertain times
You can be part of a supportive community with like minded people.
Places are limited. So book your place now on 07967 881372.
Where: online via Zoom & in the comfort of your own safe space or home
How long: 1.5hrs x 4 weeks
Here's a sneak peak of the Agenda: Pls mark in your diaries.
W1 - Sat, 13th Mar 12noon-1:30pm GMT
W2 - Sat, 20th Mar 12noon-1:30pm GMT
W3 - Sat, 27th Mar 12noon-1:30pm GMT
W4 - Sat, 3rd Apr 12noon-1:30pm GMT
During these 4 weeks, we will be collectively be diving into self reflection & create an environment of Calmness & peace using Breathe & Guided Relaxation with gratitude. We will show you how to set the scene before we start so you can truly immerse yourself in these exercises and end each session feeling so calm & relax.
More info about retreat to follow.....
About the host:
Ann Plews is an Anxiety Specialist, Wellbeing Coach, Sanomentologist, Reiki & Energy Healer. Supporting individuals wellbeing & mental health on a 1 to 1 or group sessions online. Ann has been an Anxiety Specialist for over 4 years now and has helped individuals calm their anxieties during these challenging times of lockdown & uncertainties. Ann can help you find inner peace & relaxation, increase self confidence & self-worth, releasing past traumas, fears & addictions. Start living the happy version of you.
Ann has been a practitioner Therapist since 2016 and is a member of CNHC (Complimentary of National Holistic Council) & GHR(General Hypnotherapy Register) and has seen her practice go from strength to strength. She says 'the Covid-19 lockdown has seen many individuals suffering from mental health issues particularly stress & anxiety so it makes me grateful to be able to help & do what I love best."
Wanna know more info visit:
Website: www.annplewshypnotherapy.com
Fb: https://www.facebook.com/aplewsonlinetherapy/
https://www.facebook.com/annplewshypnotherapy/
Introducing Lyn Gutib who will be co-presenting with me on this retreat.
Here's what attendees had to say about Ann Plews' events.....
"The breathe technique is awesome. During the workshop, I was so tempted to do the breathing with you guys on my bed. And really, my shoulders went down and I felt more relaxed. I'd love to join you again next time. "
"All the techniques. I realized that proper breathing is very powerful tool. Thus, I should practice the technique more often to feel good about myself always. "
"This technique of tapping is very helpful, and especially knowing where to tap and the "even though" statement. I meditate to keep myself calm and focused, but there are times wherein it's also difficult to meditate so, I think, this can be my "warm up" or pre-meditation exercise. :)"
"I was really anxious yesterday but it helped me so much in calming and soothing my system down. Out of all the tapping techniques, I think I'll go with karate chop. Not that it's convenient but it is what goes in my head rightaway with the proper breathing. Thanks again, Ann!"
"Well delivered workshop, 5/5. Very engaging. Thank you."
"All EFT techniques are useful for me."
"There's an instant effect for me especially tapping the pressure points like the tips of the fingers. It makes me calm and relax."
"Identifying the 9 pressure pts. I was not aware of such to calm my anxiety aside from breathing it out or getting a short walk. Thank you."
"it's helps with body pain, headache and calm and relax me. Thank you, Ann for sharing these techniques."
"5. Excellent
You gave me hope that I can heal. It is a huge gift!!!!!!!!!"
"was very calming and relaxing, and helped me be in a good disposition."
"That I can do something to change my anxiety patterns by applying the techniques and get a positive result instead. Very helpful indeed. Thank u."
" I rate it 5. Very effective technique. "
"This session is like a time out to my busy days and helps me think and remind myself to give myself time to relax and just be. "
"It reminds me to be grateful to even the small things and those I do not noticed. Thank you!"
"I realized that in spite of all the challenges that I have gone thru, it does not surpass what I am all grateful with."
"Relaxed and very informal, not too much pressure"
"It gave me a range of methods to feel more relaxed in a friendly and calm environment."
"The tools given are clear, precise and easy to build into everyday life."
"It was relaxed, with plenty of opportunities to ask questions"
"Ann has a lovely calming effect, this certainly helped on arrival."
"Excellent workshop and well put together!"
#annplews #hypnotherapy #anxietyworkshop #anxiety #menshealth #mentalhealth #womenshealth #stress #lowmood #wellbeing #relaxation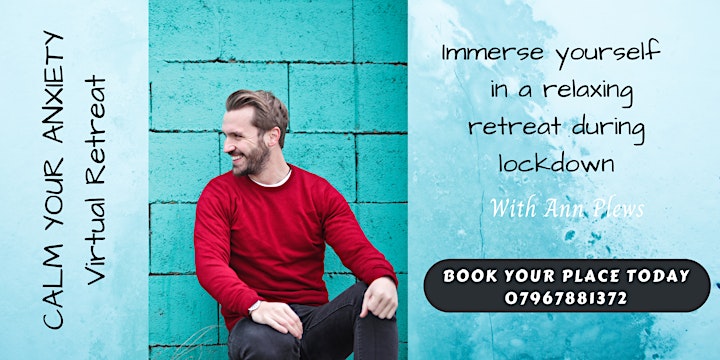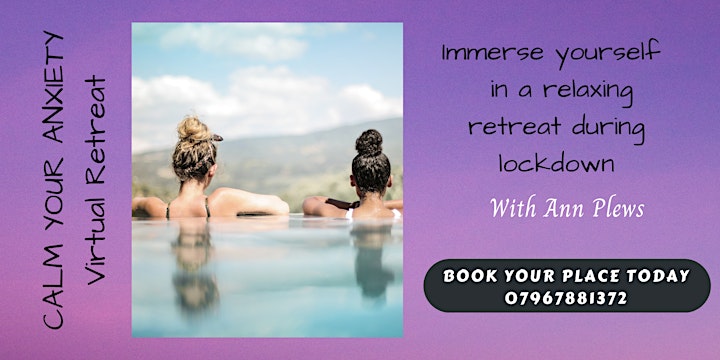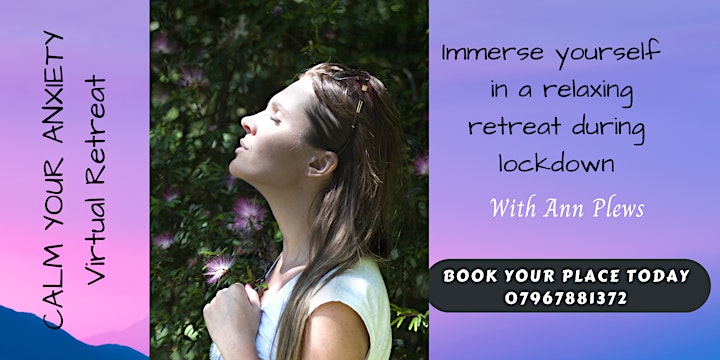 Date and Time
Location
Refund Policy
Refunds up to 7 days before event