Sales Have Ended
Ticket sales have ended
Welcome & Thank you for registering your interest on this amazing workshop.
Event Information
Refund policy
Refunds up to 7 days before event
Sales Have Ended
Ticket sales have ended
Welcome & Thank you for registering your interest on this amazing workshop.
CALM YOUR ANXIETY Virtual Retreat UK Immerse yourself in a relaxing virtual retreat (like a Mind Gym)
About this event
Are you struggling to cope with the lockdown easing & uncertainties, battling your worries of what's to come, struggling inside your mind of worst-case scenarios & negative thoughts every single day?
Are your anxieties taking over your work & home life?
Do you feel out of control & exhausted of stress & anxiety?
Join our GLOBAL RETREAT on how to CALM YOUR ANXIETY. Here, you will learn & practice a set of SELF- CARE TECHNIQUES that's PRACTICAL and easy-to-follow to help you to stay CALM amongst the fear & uncertainties and RELEASE stress & anxieties. These techniques will help you REGULATE your emotions & feelings, allow you to HEAL & move forward in your life FEELING AMAZING. The retreat will cover 1-2 techniques over 4 weeks & you get to practice in-depth every week like going to a MENTAL GYM. Every 4 weeks, you get to practice another set of INTERESTING & EMPOWERING techniques.
Start living a HEALTHY, HAPPY AND FULFILLING LIFE & become the best version of yourself.
Attendees also get a choice to join our private fb support group where you can share experiences & ideas & support each other.
WHEN: Saturdays,1st, 7th, 15th, 22nd May for 1.5 hour via ZOOM. The session begins at 12:00 noon GMT.
Fee for the 4 weeks: £44 for UK (£10/week)
60 Singapore Dollars (15 sg dollars/week)
2000 Phil's Peso (500 Phil's pesos/week)
$55 US dollars
If you're interested to join, for attendees from the UK, please click on the link above & I will send you the zoom link & details about the retreat.
Alternative, if you are attending from another country then message/email/text below with your Full name, country, contact details & email address & I will send you the appropriate payment link for your preferred currency. You will then receive a confirmation of booking with the zoom link via email:
https://www.facebook.com/aplewsonlinetherapy/
Book your place now: click on the register link
Fb: email: annplewshypnotherapy@gmail.com
Who can benefit from this workshop?
Those who feel isolated & need support to cope with lockdown easing
Individuals struggling to cope with day to day things.
Parents & children looking to manage or regulate their stress & anxiety.
Students & Teachers that are too anxious to go back to school
Individuals that are tired of worrying , feeling dread & want to relax.
Those that want to improve their confidence.
Those who would like to attend a Mental Gym each week.
What are the benefits of this workshop?
In this workshop I will show you PRACTICAL, EASY TO FOLLOW SELF-CARE TECHNIQUES that you can apply at home, at work or even at school to help you manage your stress & anxiety, regulate your emotions & feelings.
Emotional Mental Support
Peace of mind
Help to get a restful sleep
Support during lockdown easing & uncertain times
You can be part of a supportive Fb community with like minded people.
Places are limited. So book your place now
Where: online via Zoom & in the comfort of your own safe space or home
How long: 1.5hrs x 4 weeks
Here's a sneak peak of the Agenda:
W1 - Sat, 1st May 12noon-1:30pm GMT
W2 - Sat, 8th May 12noon-1:30pm GMT
W3 - Sat, 15th May 12noon-1:30pm GMT
W4 - Sat, 22nd May 12noon-1:30pm GMT
During these 4 weeks, we will be collectively be diving into self reflection & create an environment of Calmness & peace using Breathe & Guided Relaxation + some mini techniques. We will show you how to set the scene before we start so you can truly immerse yourself in these exercises and end each session feeling so calm & relax.
More info about retreat to follow.....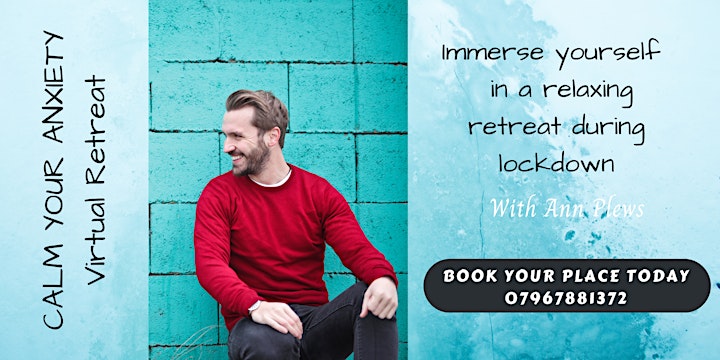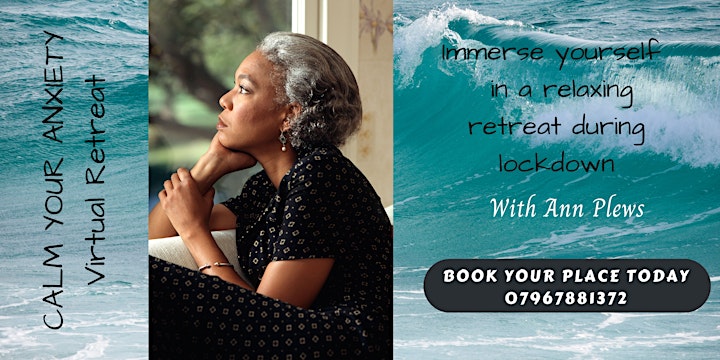 Date and time
Location
Refund policy
Refunds up to 7 days before event
Organiser of CALM YOUR ANXIETY Virtual Retreat (4 x Saturdays) UK
About Ann Plews-Conheeney
Ann Plews 
Dip Hyp GHR GQHP CNHC RPET
Clinical hypnotherapist, Anxiety Specialist, Wellbeing Coach
Sanomentologist, Energy Healer, Reiki Healer
Specialist in anxiety and anxiety disorders, pain, weight control, fears and phobias.
www.annplewshypnotherapy.com
07967 881372