Calum's Road to Aonodomon (Elements) Brunel Museum Screening & Performance
Description
Calum's Road to Aonodomon (Elements)
Calum F Kerr at the Brunel Museum

Wednesday 21 November 6.30pm - 9.30pm Screening
Live performance 8.30pm

Brunel Museum - Railway Avenue - Rotherhithe - London - SE16 4LF
1 minute walk behind Rotherhithe Overground Station

Marc Isambard Brunel's 'Thames Tunnel' built 1825-1843 is the first completed under the River Thames. The Grand Entrance Hall, 'sinking' tunnel shaft at the Brunel Museum in Rotherhithe will feature the debut screening of Calum F Kerr's film installation 'Calum's Road to Aonodomon (Elements)' and there will be a related live performance

The artist looks at feats of personal endeavour by individuals in two very different locations. In September 2015 Calum travelled to 'Calum's Road' on the Isle of Raasay, Inner Hebrides, Scotland and traversed it on his 40th birthday. This 1.5 mile road was mainly constructed by one person, Calum Macloed (1911-1988), a crofter and lighthouse keeper who built the road in order to unify the island in defiance of the Highland council, this took over ten years to complete over inhospitable terrain. Macloed often used a wheelbarrow which can now be seen at the road's Southern point. The artist has Scottish heritage and was named specifically after Calum Macloed.

In 2017 Calum travelled to 'Aonodomon', a 185 metre tunnel cut through the mountainous Yabakei Gorge in Kyushu, Southern Japan. Similarly to in Scotland he recorded the experience through film, sound and actions. The origin of this tunnel became known in Japan through a semi-fictional account by early 20th-Century writer Kan Kikuchi called 'Beyond the Pale of Vengeance'. In the mid-18th Century villagers were falling to their deaths crossing a mountain pass using dangerous 'chain bridges'. Far from his birth place in Edo (Modern Tokyo) on the run and in penance for a murder committed in his past, Zenkai became a monk and to help the villagers began chiseling through the mountain alone. This task took thirty years to complete, and although widened, the original tunnel remains. Monk Zenkai's life span ended only a little before that of Marc Brunel (1769-1849).
Despite their distant cultures the actions of Monk Zenkai and Calum Macloed have much in common; social responsibility; physical repetition; epic timescale; solitary contemplation. 'Calum's Road to Aonodomon (Elements)' concerns the quests of Calum Macloed and Monk Zenkai through a 21st century retracing of their footsteps.

The film is in five sections Working: Earth (Tsuchi ) / Running: Water (Mizu) / Walking: Fire (Hi) / Flying: Wind (Kaze ) Resting: Void (Sora) each relating to the Five Elements philosophy in Japanese Buddhism.

Visual essays and project history: www.calumsroad2aonodomon.com

Calum's Road to Aonodomon (Elements) is dedicated to Graham Robert Kerr (1950 - 2017)

Image credit: Miyuki Kasahara
Eternal thanks to Miyuki Kasahara without whom there would be no journey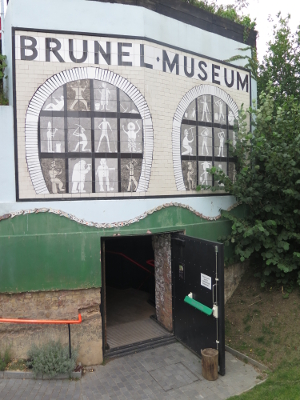 FAQs

Is the venue wheelchair accessible?

There is no lift. There is a wide spiral cantilever staircase to the bottom of the shaft. There is a bannister all the way down and the staircase has lighting.
Should I bring anything with me?
It is a 19th century underground tunnel shaft so please bring appropriate warm clothing and footwear for this November evening event.

Will there be seating?
Yes there will be seating for viewing the film and performance

Will food and drink be available?
Yes there will be a pay bar with reasonable prices and some free nibbles for early birds