First Monday of each month, 7-9pm
About this event
UPCOMING
Mon 6th Dec 7pm: Neil Brand - musician, writer and broadcaster
A seasonal evening with the wonderful musician, writer and BBC broadcaster
The talk with Neil Brand takes place at THE CRYPT, ST GILES CHURCH, Camberwell Church St, London SE5 8RB.
We apologise profusely that the venue is NOT step-free and therefore not accessible for those with limited mobility.
We are hoping to find an accessible venue for the Camberwell Talks in 2022.
PAST events at The Camberwell Arms:
6th Sept: Mark Baxter - Writer, raconteur and film maker (past event)
Mark Baxter, spills the beans about grave robbing, horse racing, gem heisting.
4th Oct: John Yabrifa - Local fine art photographer (past event)
John Yabrifa ponders pictures, philosophy and why community matters.
1 st Nov: Keeley Stanhope - Our beloved grocer
Keeley Stanhope, talks about Camberwell and exotic veg with her dad.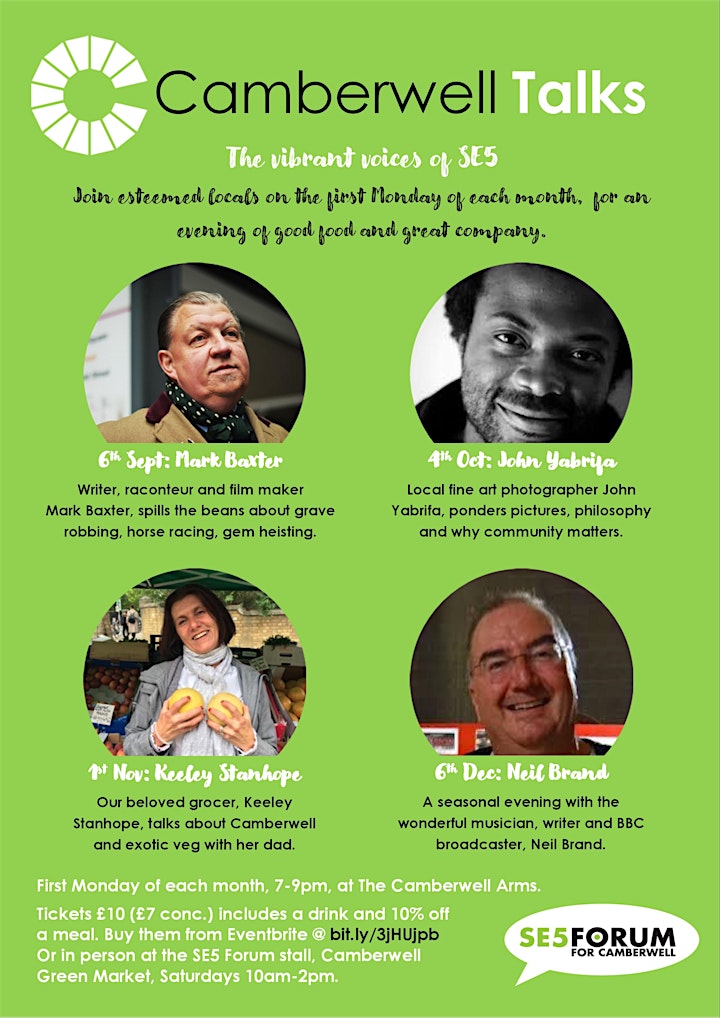 Organiser of Camberwell Talks - The vibrant voices of SE5