Cambridge Childrens Charity Week...pop-up Escape Room@Citrix, 5th-9th June
Description
Citrix pop-up Charity Escape Room - 5-9th June

Could your team be the fastest to solve the puzzles and escape The Ominous Office?
Our workspace has been taken over by rogue Artificial Intelligence assistant, Lucinda, and her designer is missing. Can you solve the mystery, and escape the clutches of the AI in time?
We will have a leaderboard for the fastest teams and the obligatory team photo - if you do indeed escape, of course...
Register your team here for one of the 1hour slots - 1 ticket needed per team (2-4 people) and donate to enter via https://www.justgiving.com/fundraising/CCCW-EscapeRoom - minimum donation per team £60. Any queries before you book - please get in touch with laura.vincent@citrix.com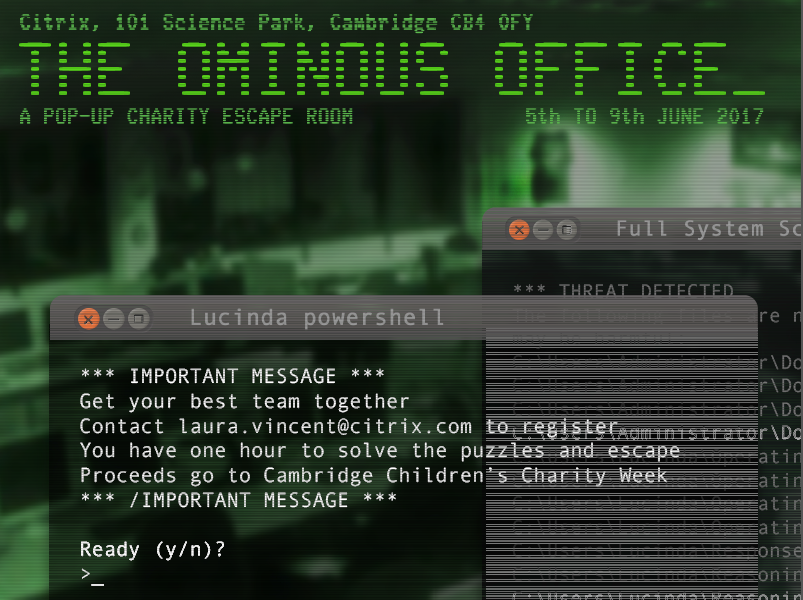 All funds raised from this event will be donated to Cambridge Children's Charity Week (CCCW) - an annual fundraising week which started in 2016. The goal of CCCW is to raise money to support some of the vital costs of the city's many charities and voluntary groups that help local children and young people - please see here for more details www.camccweek.org #footstepsofthefuture

THANK YOU FOR TAKING PART.... ENJOY & GOOD LUCK!