Cambridge Raspberry Jam - Programming workshops for Kids - 7th December

Saturday, 7 December 2013 from 10:30 to 12:30 (GMT)
Event Details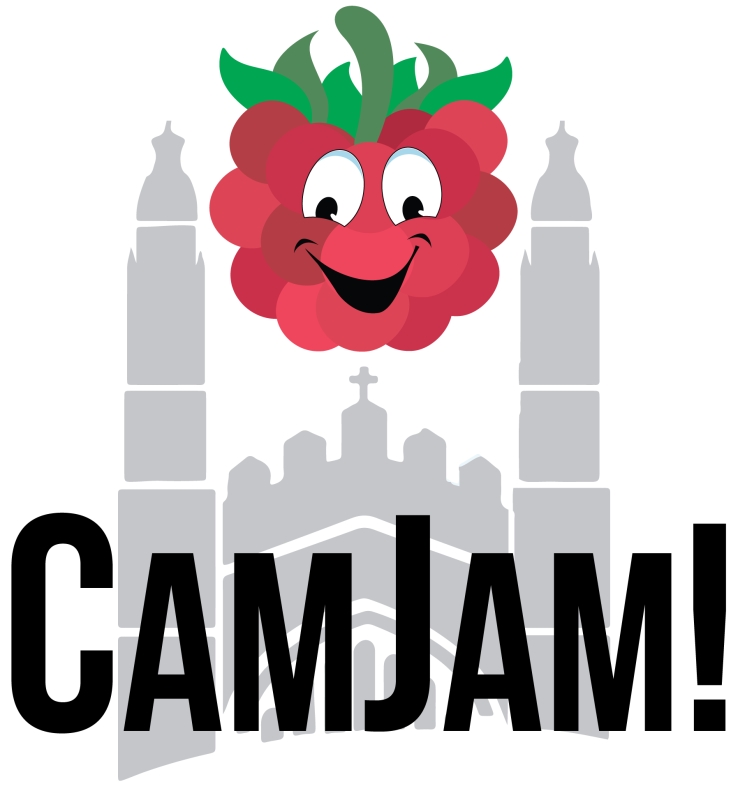 Scratch Programming Workshop
Learn to program on a Raspberry Pi !
Saturday 7th December
Institute of Astronomy, Madingley Road, Cambridge, CB3 0HA 
10.30am-12.30pm
What is a Raspberry Jam?
Raspberry Jam is a rapidly growing global network of user groups that meet to support hobbyists, developers, teachers, students, children and families – in fact, anybody that would like to put their Raspberry Pi to good use.
PLEASE NOTE
This Event Registration is for the programming workshop in the morning session. However, if you register for this morning session, your ticket will cover you for the afternoon session as well! To find out more about the afternoon session, please read on!
Please do not register for the programming workshop if you are only intending to come for the afternoon session!
If you are helping to run the workshop, please do not register but instead contact Mike at mike@recantha.co.uk for details of arrangements.
What is a Programming Workshop?
This is an opportunity for children under 16 to learn how to program.
The children will be provided with Raspberry Pi workstations to use for the morning. Our session leader will take them through some exercises using the graphical programming language "Scratch" and by the half-time break they'll be able to write a simple game. After the break, we'll move on to exploring what else the Pi can do by lighting up some LEDs, detecting when buttons are pressed, and possibly even making a buzzer sound, all from within Scratch. There will be plenty of adults/teachers helping during the workshops to make sure everyone gets the most out of the time.
Do I, as a parent, need to attend as well?
The simple answer is: Yes, we require a parent or carer to be present during the workshop.
We hope that you'll use it as an opportunity to be involved with your child's (or children's) learning.
What is Scratch?
Scratch is a graphical programming language which introduces children to programming concepts through a visual environment in which they click-and-drag programming building blocks, linking them up to create the behaviour they want. More information on Scratch can be found on the MIT website.
Why do I need to pay for a ticket?
In order for us to cover some costs associated with the Jam, we are asking for £2.50 per adult. Some of this goes to EventBrite (the ticket site you are on) and the rest goes to buying things like refreshments & equipment. We do not pay for the venue so we ensure that any money we receive is put to good use. In particular, we hope to grow the number of Pi workstations we can provide for the workshops each time, so much of the money will go towards that.
Under-16s who are attending the workshop and/or the Jam go free. The entire point of the Pi is to help young people learn how computers work and how to program and we want to encourage those attending however we can.
Will there be more workshops at future Jams?
We plan to run them every couple of months and build on what we've done before. This may involve running two separate workshops - one for newcomers, one for those who have been before. There are so many programming languages available on the Pi now, but we expect to build on our experiences with Scratch and, in the longer term, move on to a text-based language such as "Python".
The workshop ends at lunchtime - can we get food at the Jam?
Yes. Our caterer from the last Jam (Crazy Cow Catering) will be attending to provide sandwiches, drinks and assorted goodies. We'll be asking for pre-orders to give them time to prepare for the lunchtime rush.
What about the second half of the Jam in the afternoon?
The Raspberry Jam continues in the afternoon. Your ticket for the morning will be valid for the afternoon as well. The afternoon session is also being aimed at children as well as beginners and those who have just got their Pis, please visit the event page for more details.
We would encourage you to stay for the afternoon session as there is plenty going on: there are presentations in the lecture theatre, hands-on workshops, the chance to look round the Marketplace (see below) and, hopefully, see lots of Pi-related projects in our Show-and-Tell area.
It's Christmas, I might want to buy a Pi
Not a problem. We will also have a Marketplace in the afternoon with vendors who will be selling Pis, cases, add-on boards, cables and all kinds of stuff. For more information on the vendors, please visit the other event page where there is a list of the vendors.
Attendee List
Sort by:

Date

|

First Name

|

Surname
When & Where

Institute of Astronomy, Madingley Road, Cambridge


United Kingdom


Saturday, 7 December 2013 from 10:30 to 12:30 (GMT)
Add to my calendar
Organiser
Linux User & Developer
Linux User is one of the world's leading Linux magazines. With over 140,000 readers, followers and community members, we inform, teach and evangelise about everything open source: from distros and hardware to programming and IT and – of course – the Raspberry Pi. If you'd like to know more, please check out our magazine page  or our website. Oh, and make sure you follow us on Twitter to get all the latest on Raspberry Pi and Linux