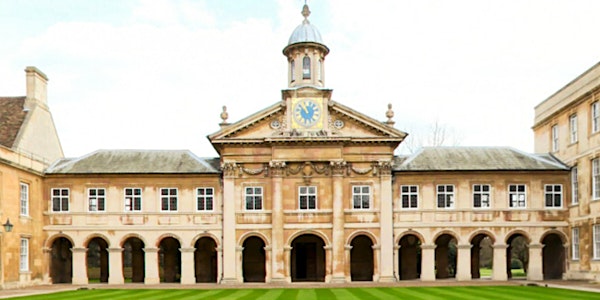 Cambridge Speechwriters' & Business Communicators' Conference 2022
Event Information
Location
Emmanuel College
St Andrew's Street
Cambridge
CB2 3AP
United Kingdom
Refund policy
Refunds up to 30 days before event
Eventbrite's fee is nonrefundable.
20th UK Speechwriters' Guild/ European Speechwriter Network Conference at Emmanuel College, Cambridge. Our conferences are open to people wh
About this event
20th UK Speechwriters' Guild/ European Speechwriter Network Conference at Emmanuel College, Cambridge.
Our conferences are open to people who write speeches or ghost blogs, opeds or Tweets for one of the leaders in their organisations.
You'll meet colleagues who face the same challenges.
The European Speechwriter Network working with the UK Speechwriters' Guild has pioneered a format where we listen to top speechwriters, leaders and interpreters talk about their work.
We learn what techniques they use, how they craft stories, how they build relationships.
Who should attend?
Previous conferences in the UK, Brussels and Amsterdam have attracted speechwriters from the European Commission, Disney, NATO, BMW, IBM, the CBI, Orange, Deloitte, Shell, BP, the United Nations, the European Investment Bank, Coca Cola as well as the Dutch, Danish and British civil service.
This conference is for anyone wanting to improve their ability to write and deliver speeches.
While the conference is predominantly in English, the techniques will be transferable to other languages. 
It's also for people wishing to improve their company's ability to communicate ideas.
You should attend this conference if you are interested in:
Communicating your organisation's mission, vision and values
Helping leaders motivate and inspire
Discovering techniques to give your speeches more impact
Understanding how speeches are interpreted
Engaging people with your ideas
The benefits 
Acquire techniques used in the White House, European institutions and and in numerous government and multinational offices around Europe.
Get insights into rhetoric from top writers
Listen to outstanding public speakers
Have your own work analysed in interactive sessions with top trainers
Meet fellow professionals from the Europe and the rest of the world
Programme
Tuesday 31 March
6.30pm Meet for informal dinner
Wednesday 1 April
Pre-Conference Training
10am-4.30pm
TBA
Main Conference
Thursday 2 April
10am - 4.30pm - European Speechwriter Network Conference
Speakers include: 
6.30pm - Drinks reception.
7pm - Three course banquet in Queen's College
Email us if you'd like to take one of the two-minute speaking slots to practise your after-dinner speechwriting.
Friday 3 April
10 - 12.30am - Conference Day 2
Speakers include: Anne Pédron Moinard, Bjorn Berge, David Murray, 
Official Conference Close
1pm - Optional lunch in the Nosebag, St Michael's Street
2.00pm - Optional tour of the Oxford Union Debating Society
What you will learn and leave with  
A better understanding of what makes an effective speech 
Insights on how to work with multilingual audiences
Tips for managing your speakers
Strategies for dealing with interpreters
New contacts, ideas and perspectives on the trade
Pre-Conference Trainers
Speakers  
Invoices
If your institution does not pay VAT, or if you prefer to submit a purchase order, or you would just like us to send you an invoice instead of paying through Eventbrite, please get in touch. We can separate the accommodation from the conference and training, if you request.
Cancellation Policy
Bookings will not be accepted unless accompanied by payment and cancellations must be received no later than one month (28 days) before the conference if a full refund is to be given.
Cancellations received within 2 to 4 weeks of the first date of conference will be refunded 50%. No refunds will be given for cancellations made within 14 days.
However, we are happy to discuss transferring your ticket to a future conference in the event that you can't attend due to unforeseen circumstances.
How to get to Cambridge
By Air
By Train
Hotels
To maximise enjoyment of the conference we encourge you to stay in Magdalen College with most of the other delegates. Oxford colleges have old rooms that can be part of their charm. Some rooms do not have ensuite toilet facilities. To get the best rooms, it's advisable to book early.
Students
There are a limited number of discounts availalbe to people in full-time education who are considering a career in speechwriting. Details on application.
Testimonials
It was a great event and I found the speakers provided an excellent insight into the world of speechwriting - so thank you!
Kate, IBM
We went back to the real nitty-gritty elements of the craft, and going back to basics made me think afresh about different approaches that can be taken. The Conference overall was educational, practical and full of ideas and creative energy. Attending was a brilliant opportunity – go!
Jonathan Kinsella (speechwriter at Dept of Culture, Media and Sport)
Loved the conference. Great speakers and well organized. Learnt lots.
Alistair McIntosh, Chief Executive, Housing Quality Network
Thanks especially for getting Sam Leith and David Day to speak to the group, both were utterly compelling.  And thanks for all the thought and hard work that doubtlessly go into this event every year, I can't think of any other conference that's worth packing a suitcase for.
Maddy, Clifford Chance
It was a hugely enjoyable two days and an honour to speak among such stellar names. Congrats on pulling off such a successful event.
David K
I greatly enjoyed the conference, and very much appreciated being invited.
Edward Mortimer, former speechwriter to Kofi Annan
Let me thank you wholeheartedly again for having invited me to your brilliantly organized conference in Oxford. I enjoyed it thoroughly and I was impressed by the line-up of speakers, the truly international mix of people, the intellectual level of the contributions (and contributors) and the wonderful venue you had chosen
Willi Vogler, Verband der Redenschreiber deutscher Sprache
Thanks for organising such a brilliant event – I have just been raving about how brilliant the event was to my colleagues and would very much like one of them to attend next year, could you keep me on your mailing list.
Communications Director at Astellas Pharma Europe
Thanks for organising such a great event.
Ben Duncan, Senior Adviser to the Director, European Centre for Disease Prevention and Control
Thank you for an outstanding conference. Congratulations for organising multiple perspectives on speech writing – Foreign Office, UN, government and business.
Jamie Priestley
Date and time
Location
Emmanuel College
St Andrew's Street
Cambridge
CB2 3AP
United Kingdom
Refund policy
Refunds up to 30 days before event
Eventbrite's fee is nonrefundable.