Location
Roku
2 Cambridge Science Park
Cambridge
CB4 0AF
United Kingdom
Doing our thing at Roku's incredible new home. An event exclusively for Science, Tech and Digital Innovation Professionals.
About this event
Tech & Beer Joins Forces With The Mighty Roku
Team Tech & Beer are incredibly excited to be joining forces with the region's champion of streaming devices and digital media players.
We'll be running the September Tech & Beer from Roku's impossibly cool new Cambridge offices on Cambridge Science Park, firstly so that Roku can show off their new space, but also because we can't wait to check out their very cool new space!
As you'd expect, we'll be gathering the finest minds within the science, technology and digital innovation ecosystem and presenting them live on stage for an evening of insight, innovation and entertaining knowledge sharing.
If you work in tech, digital, science or innovation come join us and the team at Roku on 8 September.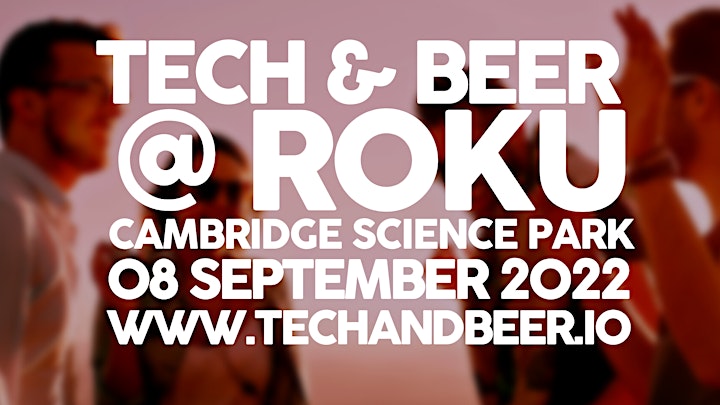 Tech & Beer events are renowned for their positive, curious, open and fun vibe - and the Roku event will be no exception.
If you work in tech, digital, science or innovation join us on Cambridge Science Park for a 5:30pm kick off... we can't wait to see you there!
We're committed to making this a fun, informative and safe event for the tech, digital, science and innovator community. Everyone's health and wellbeing is important to us so we ask everyone to respect the safety of others and be cautious when in contact with people you don't normally meet in enclosed and crowded spaces. We recommend you continue to comply with cleaning, hand washing and hygiene procedures.   This event is free to attend for science, technology and digital innovation professionals and is made possible by our sponsors and supporters, without whom Tech & Beer just wouldn't exist. So a huge thanks to all involved.
Disclaimer:The event is free for those working in tech, science or innovation. Recruitment agencies and their employees are required to pay an admission fee of £499+VAT in advance.
Guests must be over the age of 21 to attend Tech and Beer. Proof of age may be required.
The organiser reserves the right to refuse admission.