Description
Booking for this event is now closed.
Meet members of the Wikimedia community, at the new Amazon research lab (this is not the Amazon place on Castle Park). It is in the large One Station Square block, directly opposite the Cambridge railway station. Looking from the station, it is at the left-hand end. Map link.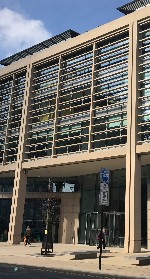 Enter at the top of Station Road, by the large doors to the right of Carter Jonas Cambridge Central. Amazon reception is on the 5th floor, so please take the lift.
All are welcome, from 3 pm, but you will need sign up in advance, to get in, giving a real name. So please get yourself a free ticket. Please also add your Wikimedia username, if you have one, to the meta page.