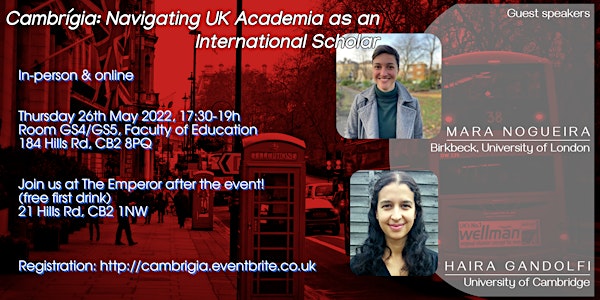 Cambrígia: Navigating UK Academia as an International Scholar
Event Information
Location
GS4/GS5 Faculty of Education, University of Cambridge
184 Hills Road
Cambridge
CB2 8PQ
United Kingdom
Join us for a conversation with two Brazilian scholars about their experiences in the UK academia!
About this event
In this hybrid event, Haira Gandolfi (University of Cambridge) and Mara Nogueira (Birkbeck, University of London) will share their experiences in the UK academia with a particular focus on the opportunities and hurdles faced by international academics. Our speakers will give a brief presentation about their academic journey, followed by an 1-hour Q&A.
The discussion will be facilitated by members of the Cambridge University Brazilian Society (CUBS) and will be livestreamed on Zoom, giving audiences online the opportunity to fully engage in the conversation.
After the event, we will be moving to the Latin bar, The Emperor for some informal networking. The first drink is on us! ;)
Open to all nationalities and career stages!
Speakers
Haira Gandolfi joined the Faculty of Education in 2020, having previously worked as a Research Fellow at the UCL Institute of Education/UK, from where she also obtained her PhD in Education in 2019. She teaches on various programmes across the faculty around Decoloniality, Curriculum and Pedagogy; Science Education and Science & Technology Studies; Teachers' Development and Professionalism; and qualitative school-based research methodologies. Prior to her time in the UK, Haira worked as a Science and Chemistry teacher for 8 years in secondary schools and in post-secondary/technical colleges in Brazil. She also holds a BSc in Chemistry, a BSc in Chemistry Teaching and a MA in Science Education, all from the State University of Campinas (UNICAMP)/Brazil.
Mara Nogueira is a Lecturer in Urban Geography and Director of the MA/MSc Cities Programme. She obtained her PhD in Human Geography and Urban Studies from the London School of Economics. Mara works on the cross-class politics of urban space production, with an emphasis on the (re)production of socio-spatial inequality in urban Brazil. Her work focuses on the encounters between the urban poor, the middle-classes and the state, exploring how those encounters shape urban space, policy making and social class. She joined Birkbeck in 2020, having held a fellowship previously at the London School of Economics and Political Science. Mara also holds a BSc and a MSc in Economics, both from the Federal University of Minas Gerais, Brazil.
Date and time
Location
GS4/GS5 Faculty of Education, University of Cambridge
184 Hills Road
Cambridge
CB2 8PQ
United Kingdom