Description
Cameron McNeish is an established figure on the Scottish and British outdoor scene. As a full time outdoor writer, magazine editor, backpacker and trek leader he has travelled extensively throughout the Himalaya, Jordan, North America, Corsica and many other mountainous areas of the world.
Cameron has spoken in Dundee many times in the past, particularly at the annual Dundee Mountain Film Festival; he said "I love coming to Dundee to give talks. There is a large outdoor community in the city and audiences are always so appreciative and knowledgeable. I'm already looking forward to visiting the Central Library in October."
Join Cameron for an illustrated talk about his writing and travels.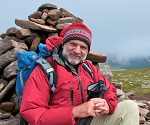 Cameron will be available for book signing after the event and will be selling copies of his recent book, there's always the hills. Cash sales only.