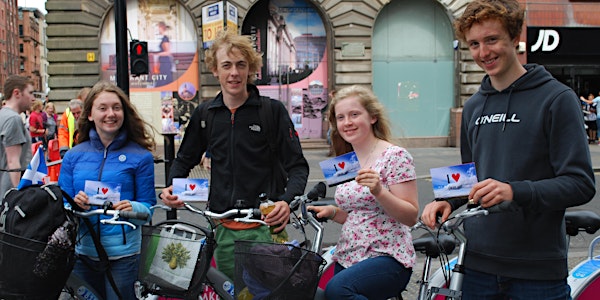 Campaigning for "Clean Air Neighbourhoods": Training Day
Location
Glasgow
Glasgow Quaker Meeting House
38 Elmbank Cres, Glasgow G2
Glasgow
United Kingdom
Description
Transport accounts for a quarter of Scotland's greenhouse gas emissions and creates air pollution, responsible for over 2500 deaths in Scotland each year. But where local governments prioritise space for cycling, walking, and public transport, cities and their environments thrive.
The Scottish Local Council elections in May 2017 mean that now is the time to start putting clean air at the heart of Councils' plans. That is why we're bringing together people from across the Central Belt keen to act on air quality, transport and their local environment.
This training day will give you a chance to plan campaigns to get your Councillors and Council candidates to commit to delivering "Clean Air Neighbourhoods". The day will include skill sharing and workshops focused on:

- how to successfully campaign for better cycling and walking paths
- how to campaign for your council to crack down on dirty fumes on our streets via low emission zones
- how to plant trees in your local community
- print media training
- social media skills
Lunch will be provided and we'll hear from Dr Mark Miller, Senior Research Fellow at the Centre for Cardiovascular Science at Edinburgh University who is a specialist in the health effects of air pollution.
The day is designed to be practical; giving everyone the chance to map out what you want to see happen in your community, equipping you with some of the tools to get you started, so that you leave feeling inspired, empowered and ready to take action! Don't hesitate to get in touch if you have any questions about the day.