Description
Can digital offer sanctuary for refugees and asylum seekers? - the role of technology in the lives of people migrating to our city?
People seeking refuge and asylum in our city face many challenges, of which technology can be a help and a hindrance. This event focuses on the role of technology in the lives of refugees and asylum seekers alongside consideration of issues of digital exclusion.
Dr Glenda Garelli, lecturer in human geography at the University of Leeds will share insights into the research she has undertaken in this field. Ian McArdle, Digital Inclusion Coordinator for Leeds Libraries will speak about how the council is helping people access digital technologies and promote digital inclusion via the 100% Digital Leeds Initiative that was recently showcased in an ITV documentary.

Ben McKenna, chief executive of Bradford based Solidaritech will explain how his organisation, which repurposes old laptops and digital devices to pass on toe asylum seekers and refugees, is making a real difference to people's lives.

Jon Beech, director of Leeds Asylum Seekers Support Network will share insights into the day to day use of tech by various migrants in Leeds - the ups and downs of relying on tech when you are living in poverty in a country where it's unlawful for you to have a phone on contract and you don't speak the language.

This event will be of interest to anyone working with refugees and asylum seekers who is interested in the role of digital technologies. It is also relevant to civic minded digital innovators who are interested in this topic area.
Our speakers:
Jon Beech is the Director of lassn.org.uk, organises comms and work on health for migrationpartnership.org.uk, and Chairs solidaritech.com in his spare time. Before moving to LASSN, Jon worked for a variety of mental health and housing organisations (focusing on the mental health of BME groups and people who have migrated to the UK) as well as a doing a short stint as local authority homeless officer. He has a particular interest in how information is created, distributed and controlled, and the uses of technology which include, alienate, and inspire action in the physical world.
Glenda Garelli is lecturer in human geography at the University of Leeds. Her research focuses on migration, borders, and digital humanitarianism.
Ben is a technologist, designer and developer. He formed Solidaritech in 2017 to address the growing digital divide. Solidaritech refurbish donated laptops, tablets, phones and desktops, gifting them to beneficiaries from the Asylum Seeker and Refugee community so they can convert their previous qualifications, pursue new one, progress their case, find work and take an active role in society. With over 20 years experience in working with technology Ben has worked with some of the biggest brands in the world, but his real passion is studying the sociological, behavioural and political impacts that technology has on the world.
---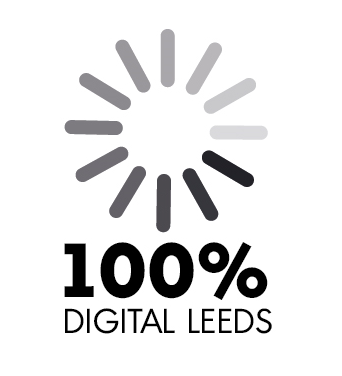 100% Digital Leeds is the health and care theme of the Leeds Digital Festival #LDF19.
Curated by mHabitat on behalf of the city, 100% Digital Leeds bring together international, national and local perspectives on current digital themes in health and care. From the ethics of AI, through to how we use personal data and the impact of social media on vulnerable teens, our events aim to stimulate debate and shine a light on the great stuff happening in our city. We are delighted to have BJSS as our headline sponsor at #LDF19 and we are also grateful to our individual event sponsors in helping make #100DigitalLeeds #LDF19 happen.
Most of our #100DigitalLeeds events will be run from the recently launched Co>Space North – a collaboration and co-working space on the fifth floor of Platform in the heart of the city. At Co>Space North we are creating a community of makers and doers passionate about digital health and tech for good. Anyone signing up to be a member of Co>Space North during the two week festival period gets their first month membership for free! Email us at cospacenorth@wearemhabitat.com to find out more and get involved.
Our city's Health and Wellbeing Strategy 2016-2021 sets out a clear vision that 'Leeds will be a healthy and caring city for all ages, where people who are the poorest improve their health the fastest'. This includes maximising the benefits from information and technology as a key priority. The health and wellbeing strand of the Digital Festival is a celebration of the diverse and innovative work taking place to help us achieve our shared, bold ambition for Leeds to be the best city for health and wellbeing.